Press release
British Gas Pools 4 Schools wins PM's Big Society Award
Mobile swimming pool programme has helped 30,000 school children learn to swim.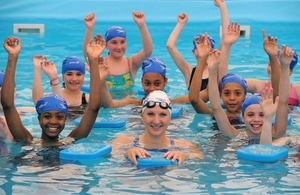 British Gas Pools 4 Schools, a programme that takes temporary swimming pools to schools and communities across England, to teach swimming, has been recognised by Prime Minister David Cameron with a Big Society Award.
A partnership programme between British Gas, the Amateur Swimming Association (ASA) and Total Swimming, British Gas Pools 4 Schools aims to get more children swimming and has already helped 30,000 youngsters across the country learn since its launch in 2009. The initiative constructs temporary mobile swimming pools for up to 12 weeks, often in schools that do not have access to pools. After school hours, the pools are open to the community so that as many people as possible in the local area benefit.
Each school is also visited by an inspirational Olympian who gives a special swimming lesson in the pool. Lessons have been given by Olympic gold medalists Rebecca Adlington and Duncan Goodhew, and multiple world champion Mark Foster.
Since its launch in 2009, British Gas Pools 4 Schools has:
taught 30,000 children to swim
installed 25 temporary pools across the UK
over 200 swimming teachers helping over 5,000 people take part in community sessions out of school hours.
PM David Cameron said:
British Gas's Pools 4 Schools is a fantastic initiative. Swimming isn't just good exercise and a great hobby, it can also be a life saving skill.

Taking swimming to where its needed most has already helped 30,000 children learn to swim and 5,000 people go along to after school sessions.

I'm delighted to be recognising the hard work of the teams at British Gas, Total Swimming and the Amateur Swimming Association with this Big Society Award.
Double Olympic gold medalist Rebecca Adlington, who has been lending her support to British Gas Pools 4 Schools said:
British Gas Pools 4 Schools has been hugely effective in helping children learn to swim, especially those from disadvantaged areas. Swimming is our nation's most popular sport and a life skill, so these opportunities for everyone to learn are vital. I'm delighted that British Gas Pools 4 Schools has been recognised with this Award and I'm looking forward to getting even more kids in the water!
Abi Robins, Brand Director at British Gas, said:
We are very proud that British Gas Pools 4 Schools has already helped more than 30,000 children learn to swim and we hope many more youngsters will benefit from the programme moving into a new school year. British Gas have worked in partnership with the ASA and Total Swimming to deliver our key mission, to teach children to swim and equip them with confidence and skills in the water. This will hopefully allow them to enjoy swimming for the rest of their lives.
David Sparkes, Chief Executive of the ASA said:
I am delighted that the British Gas Pools 4 Schools programme has been recognised for such a special award. The ASA has a belief that every child should learn to swim, but sadly we know that many children never have the opportunity to learn this life saving skill. As an organisation the ASA, together with our partners, are proud to have put in place such a critical programme to reach those children likely to enter secondary school, and adulthood, without access to a sport that has the ability to keep them fit, healthy and safe throughout their lives.
The first project of the new school year will be delivered at the Oasis Academy in Oldham.
Notes to editors
Images available upon request.
Media contacts: Chris Cooper, Operations Director, Total Swimming on 0161 763 0951 or 078 9485 0536
For more information: British Gas Pools 4 Schools
Case studies
In 2012/2013, British Gas Pools 4 Schools visited North Bransholme Community Centre in Hull. This is one of the largest social housing estates in Europe and among the top 5% most deprived communities in England and Wales. There is a lack of access to swimming facilities, with no direct bus route to the nearest pool. During the project, swimming lessons were delivered to four local schools and in total over 1,000 people received swimming lessons.
The project was made possible by the community centre manager and her team of volunteer staff who opened up the centre and helped in the delivery of the sessions.
North Bransholme Community Centre manager, Janet McCoid said:
We are extremely pleased to be the host of such an amazing programme.

This pool has allowed our relationships within the local community to grow, and it is great to see so many families coming together to swim, and enjoy this fantastic facility.
The project was officially opened by Mark Foster, who delivered a special school assembly and swimming lesson with a group of children from Highlands School.
As a legacy from the project, a group of children who learnt to swim through Pools 4 Schools visited the British Gas Swimming Championships in Sheffield to witness the world championship trials and participate in an Olympian led event delivered by Total Swimming.
Other notes:
By taking Pools 4 Schools to areas that might not have access to pools, swimming has been reinvigorated in local communities as well as helping schools meet National Curriculum targets.
Total Swimming and the ASA are working together with British Gas and achieved their aim of reaching their 10,000th child in just over a year
this is the first community specific programme to be run by the energy company, who have pledged 15 million pounds over 6 years to British Swimming
ambassadors of the sport are not only used effectively for PR but actually dive in and get involved at each community opening
the inspiration for the local community is undeniable. Ambassadors include Rebecca Adlington, Mark Foster and Duncan Goodhew
the project continues with four community placements through 2012 to 2013, each lasting 12 weeks
started as they were shocked to find out the proportion of people who couldn't swim believe every child should have the right to swim
started with one temporary pool in 2009 and now teaching 30 000 children in 25 projects across the UK
want to branch out further across the UK, think temporary swimming pools are a really great way to teach people to swim
funded through the government body for swimming and British Gas- no funding problems
they have no board but their patrons are Olympic swimmers e.g Rebecca Adlington, Mark Foster etc
they have 12 full-time staff at Total Swimming
Steve Parry is the man responsible.
get a lot of local and some regional press, have been on regional TV, due to Olympic swimmers
schools and communities can apply to have Pools 4 Schools visit their area by visiting the Total Swimming website and filling out an enquiry form at Total Swimming
On the Big Society Awards
The Big Society Awards were set up by the PM in November 2010. The aim is to acknowledge individuals and organisations across the UK that demonstrates the Big Society in their work or activities. In so doing, the aim is also to galvanise others to follow.
The award focuses on 3 specific areas:
Outstanding contribution to community
people, projects and organisations that enable communities to drive change themselves
projects and organisations that allow the community to identify solutions
people, projects and organisations that inspire others to contribute to their community
Improving lives and society through innovation, collaboration and new partnerships
people and organisations taking new approaches to public services
successful collaboration and partnerships between public, private and voluntary sector, working together to benefit communities
Engaging in social action
people, projects and organisations taking action in their community
working together for social change (e.g. through creating groups, campaigns, movements)
generosity of time, money, skills and other resources, in support of social action
Launching the awards, the PM said:
There are some amazing projects and remarkable voluntary work going on in towns and cities up and down the country, by all kinds of organisations from large enterprises to tiny grassroots schemes and inspirational individuals.

These awards are a chance to pay tribute to those making a valuable contribution to their community, the real champions of the Big Society, but perhaps more importantly, I hope they will motivate many others to take action, get involved and drive change in their area.
Nominations come in from the general public after which there follows a process of scoring and short-listing by civil servants and a further short-listing by a panel of ministers and independent external experts. This Panel makes recommendations to the Prime Minister who makes the final decisions about who to make the award to. 12 winners are decided each quarter meeting and then announced once a week throughout the year.
Big Society Awards - Inspired by 2012: Keeping the Olympic Flame Burning across the UK
The Olympic and Paralympic Games last summer enthralled the nation and inspired over 70,000 people to volunteer their time and energy. Since then, people have engaged with their local sports clubs, tried a new sport, implemented community initiatives, ignited whole towns and villages to commit to keeping the spirit of 2012 alive.
To celebrate the anniversary of the 2012 Games, a number of awards will be announced for innovative groups, individuals and organisations whose work exemplifies the Big Society and whose Olympic-style achievements are making a real difference in communities.
For more information: Big Society Awards Enquiries: Lucy Windmill 07795445197
More than 80 winners have been announced to date, including:
Community Action Through Sport
Promoting, recognising and rewarding all young people for positive community action with sports based awards.
Wotton under Edge swimming pool
In their first year (2011) overall use of the pool was estimated to have increased by 89% on the previous year. Users include the local schools, a triathlon club, mums and babies. The site continues to provide employment for local young people, offers swimming lessons and has seen 12 lifeguards receive trained.
AFC Wimbledon
AFC Wimbledon is a professional Football League Two club, which is currently celebrating its 10-year anniversary. The club is still owned by its supporters via the one-fan, one-vote Dons Trust. Since formation, the club's officials, supporters and 300 volunteers have organised a number of community initiatives.
For a full list of winners visit Big Society Awards
Published 6 September 2013