News story
British Forces mark Christmas in Helmand
British forces in southern Afghanistan mark Christmas at military bases across Helmand Province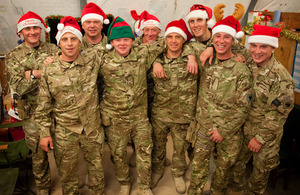 British forces serving in southern Afghanistan have been marking Christmas at military bases across Helmand Province today (25 December).
The festivities took place as the troops completed a full day of operational duties. Many soldiers from the UK-led Task Force Helmand spent the day on patrol in support of the Afghan security forces, yet still most found time to open presents and ring home – and enjoy a freshly-prepared Christmas lunch with all the trimmings.
Christmas post
Last-minute festive cheer was provided by the Post and Courier Squadron as tonnes of mail arrived at a number of forward locations, delivered by Chinook helicopter.
Bringing last minute festive cheer on Christmas morning, 78 sacks of post (1 tonne) arrived by helicopter in Main Operating Base (MOB) Lashkar Gah – home to the 4th Mechanized Brigade ('Black Rats') headquarters.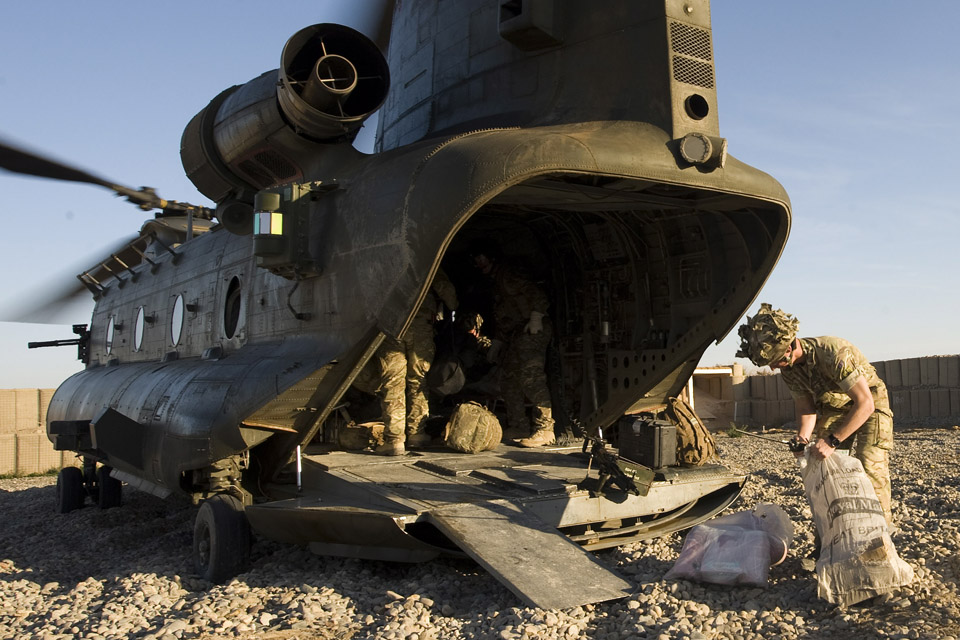 On a chilly Christmas morning, in MOB over 100 soldiers and civilians took part in the 'Lash Dash' 5km run around the base. Many completed the course in fancy dress, with proceeds from the event split between two charities: the Lashkar Gah Orphanage and The Black Rat Fund.
Both the male and female winners were Danish soldiers. The Brits fared better in the fancy dress competition with Cpl Calum Frazer (Adjutant's General Corps, Royal Military Police) winning by running dressed as a well-wrapped Christmas present.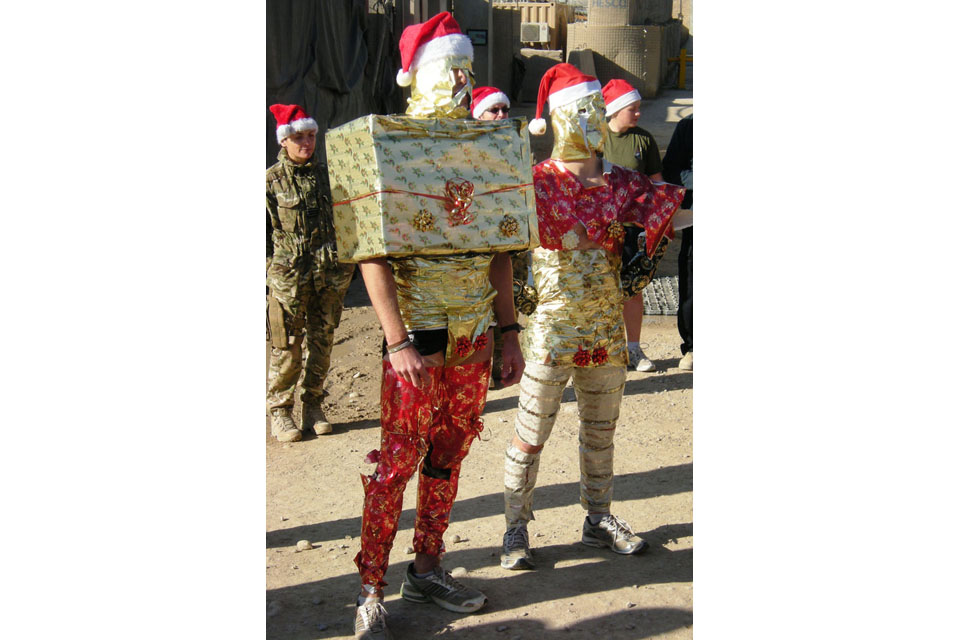 Working day
Today, however, is another working day for all military here in Helmand. As the sun rose on Christmas morning, troops from the Royal Dragoon Guards and the Royal Military Police set off on patrol to the Provincial Police Headquarters to train Afghan Police. The 'train the trainer' course sees Afghan Police qualifying to teach police skills. This will allow British troops to step back as the Afghan Security Forces take the lead in training their own forces.
Christmas lunches and all the trimmings
A full Christmas lunch, including all the trimmings, was served in the cookhouses of Camp Bastion, MOB Lashkar Gah and patrol bases across Helmand. Even the troops manning the security towers or sangars surrounding Camp Bastion were not forgotten and enjoyed personal deliveries of hot food.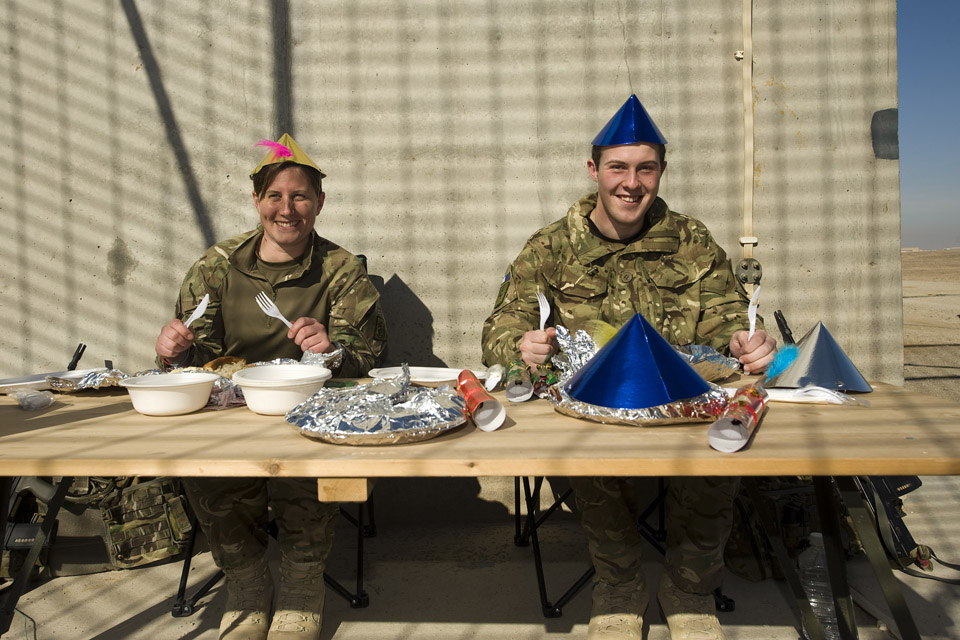 Jonathan Baldwin kitchen manager from KBR in Camp Bastion said:
Today is the full Christmas celebration for the troops in Bastion. This includes a traditional Christmas lunch consisting of roast beef, pork, turkey, sprouts, roast potatoes and pudding and mince pies. We are cooking for roughly about 4,000 people - ranging from 140 joints of beef, 200 turkeys, 120 gammons – that's what it take to feed these guys. Also using 40 boxes of brussel spouts, 150 bags of potatoes, it's on a massive scale. It also includes litres of gravy, tomato soup – it's a big operation.
Presents for all serving personnel
Providing a little Christmas cheer to forces overseas every year is the UK based charity called uk4uThanks! This is an organisation funded by money donated by members of the public. The presents (affectionately known as the 'square stocking') act as a gift from the nation to all those serving in the UK Armed Forces overseas away from their families and loved ones on Christmas Day. The boxes, containing a host of goodies from business sponsors and bought with money donated from members of the public, were delivered in time to be opened on Christmas Day. Much speculation abounds as to the contents of the boxes and it is never a disappointment as much thought is put into providing amusing and useful gifts away from home at Christmas time.
Published 25 December 2012