British folk band attends International Music Festival
On 27 August 2013 the 9th International Music Festival 'Sharq Taronalari' (Melodies of the Orient) started in Samarkand.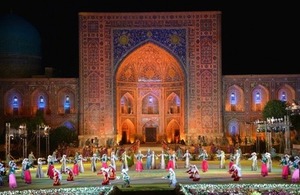 Folk music artists from more than 50 countries will be participating in this five day event, including Great Britain, represented by the trio "Pentan".
Pentan brings together three special musicians to represent the best of Welsh traditional music. Each a soloist in her own right with an independent career, as Pentan they have created a group that shows the rich heritage, beautiful melodies and powerful lyrics of Welsh music. The trio - Ms Lynne Denman (voice), Ms Sioned Webb (harp) and Ms Clare Clay (violin) – have a reputation for stirring the emotions of every audience. During the Festival Pentan will tell stories of love and loss, homesick sailors, lullabies and children's songs - all painting a picture of traditional country life in Wales.
Her Majesty's Ambassador, George Edgar, along with hundreds of guests and artists, attended a spectacular opening ceremony held in the ancient Registan Square surrounded by beautiful madrassahs of the 15th-17th centuries. Sharing his impressions after the ceremony, Ambassador Edgar said: 'the Sharq Taronallari festival brings together a great range of musicians from different traditions to share their music. I'm very pleased that Pentan are here performing traditional music from Britain. Events like this bring our nations closer together and emphasise our shared values'.
Published 28 August 2013