World news story
British flag at half-mast in Kigali in memory of victims of 1994 Rwandan Genocide
British High Commission Kigali marks 19th anniversary of genocide during official week of mourning.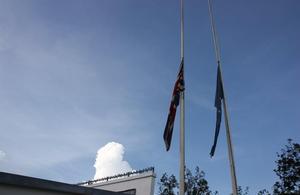 The British and European flags at the British High Commission in Kigali are flying at half-mast during the week beginning 7 April 2013, in memory of those who were killed in the 1994 Rwandan genocide.
In common with other diplomatic missions, government offices and other organisations in Rwanda, the British High Commission marks the official week of mourning – known as "Icyunamo" in Kinyarwanda – which begins on 7 April each year, by lowering its flags to half-mast. British High Commission staff also commemorate the victims of the genocide by visiting a genocide memorial site during the mourning period.
2013 marks the 19th anniversary of the 1994 Genocide, in which 800,000 people are estimated to have been killed. On 7 April, the British High Commissioner HE Ben Llewellyn-Jones OBE attended the flame-lighting ceremony at the Gisozi Genocide Memorial Centre, and the memorial event at the Amahoro National Stadium.
Published 11 April 2013