British Embassy welcomes the progress made by Iraq's Army
Today is Iraq's national Army Day, the 90th annual celebration of the founding of the Iraqi Army on 6 January 1921.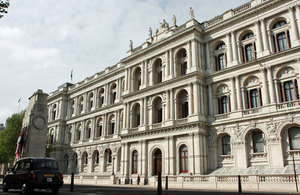 British diplomats were pleased to attend parades held in the capital Baghdad and to join in welcoming the progress made by the Iraqi Army over the last year. Despite the challenge of recent attacks, the determination of the Iraqi Security Forces has not been swayed and they continue to deliver increasing stability and security across the country.
The Government of Iraq now leads in maintaining security throughout the country, with international forces focussed on training and supporting the Iraqi Security Forces in their work; the UK is proud to have been a part of this process. We look forward to continuing our close bilateral links in building new commercial, cultural, economic and defence ties in the future.
Army Day is a fitting moment to look back at the progress that has already been achieved in Iraq, and to look forward to the next year with the hope that it will bring yet more stability and prosperity for the Iraqi people. With the recent formation and approval of the new Government by the Iraqi Council of Representatives, we hope that the people of Iraq can look forward to the security, stability and economic growth that they deserve.
Published 7 January 2011