World news story
British Embassy Tokyo and InterFM sign emergency broadcasting MOU
First-of-its-kind agreement to help British nationals in Japan in the event of disasters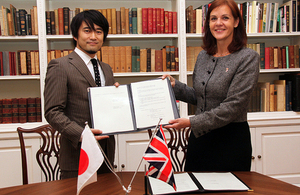 The British Embassy Tokyo and InterFM Co., Ltd. held a signing ceremony on 9 January at the British Embassy in Chiyoda-ku, Tokyo formalising both parties' agreement to work together to broadcast emergency announcements and information to British nationals in Japan in the event of disasters.
The MOU signing ceremony was conducted by Mr Hiroyuki Nasu, Manager of the Programming & Operation Division of Inter FM Co., Ltd. and Ms Joanna Roper, Consular Services Director of the British government's Foreign & Commonwealth Office.
The agreement enables the embassy's public service announcements to safeguard British nationals from disasters and minimise harm be broadcast on InterFM. These announcements will include:
Emergency information such as assistance or evacuation instructions specifically for British nationals
Emergency disaster prevention and assistance measures
Details of emergency lifelines, telephone numbers and sources of information
Additional emergency measures unique to a specific disaster
InterFM Co., Ltd. has previously signed similar agreements with the Tokyo Metropolitan Government, Shinagawa Ward, Minato Ward, Meguro Ward, Chiba Prefecture, Kanagawa Prefecture and Yokohama City, but today's signing with the British Embassy Tokyo marks the first time the broadcaster has signed such an agreement with a foreign government body in Japan.
Speaking at the signing ceremony, Ms Joanna Roper said:
As we approach the 20th anniversary of the Hanshin disaster, we are reminded how important disaster preparedness is in Japan. We understand how vital it is to get clear information out to our nationals in a variety of different medium and we know just how important the role of radio was in the March 2011 disasters. This MOU is an innovative arrangement for an embassy and a broadcaster. We are delighted to be the first embassy to sign up to this agreement. We hope this, along with other measures - such as registering for our Travel Advice email alerts, following us on Social Media and our Crisis Hub system - will help us help British nationals in a crisis.
Mr Hiroyuki Nasu said:
InterFM has upheld its prestige as "The Real Music Station" by broadcasting a wide range of music from around the world regardless of its era, as well as delivering crucial information to listeners in seven different languages, including English and Korean. We are pleased to say that our radio programmes not only serve the Japanese public, but also many foreign nationals currently residing in Japan. As a multi-language radio station, we played an important role by broadcasting emergency information right after the Great Eastern-Japan Earthquake of 2011, by providing the appropriate emergency measures in English, as well as other foreign languages. We realised the importance of radio broadcasts in the event of disasters, especially when many struggle to obtain the appropriate evacuation procedures. We will maintain our best efforts to support British nationals, as well as other foreign nationals in Japan by providing reliable information at the appropriate time, as we face an influx of tourists visiting Japan ahead of the 2020 Tokyo Olympic and Paralympic Games.
Published 9 January 2015