World news story
British Embassy Tashkent marks the Queen's 90th Birthday
Her Majesty's Ambassador Chris Allan hosted a reception at his residence on 9 June 2016.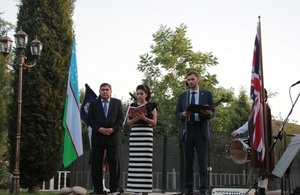 Her Majesty's Ambassador Chris Allan hosted a reception at his residence on 9 June 2016 to mark Her Majesty The Queen's 90th Birthday and the 400th anniversary of the death of William Shakespeare as part of the 'Shakespeare Lives' campaign. In the framework of this campaign and throughout 2016, an exciting programme of events and activities will allow people across the globe to celebrate Shakespeare's work and his enduring influence.
Over 500 high-profile guests attended the reception. They were members of the British community, the diplomatic corps, and members of Uzbek political, business and cultural community. Guests included Mr Elyor Ganiev, Minister of Foreign Economic Relations, Investment and Trade, and Senator Safaev, Chairman of the Senate's Foreign Relations Committee. Among special guests was also a follower of the Embassy's Facebook page who participated in a quiz on Shakespeare's work and won an invitation to attend the Queen's Birthday reception.
The Ambassador welcomed the guests and spoke of strengthening UK-Uzbekistan bilateral relations before proposing a toast to the Queen. The Ambassador said:
As a major donor to the World Bank, the Asian Development Bank and contributor to the European Union, the UK already provides millions of dollars towards grants and concessional loans for development in Uzbekistan every year. I am pleased that over the course of the next year we expect to add to this with more dedicated local programmes, supporting the government's priorities in areas such as governance and economic and regional development.
On the 'Shakespeare Lives' campaign being supported by the British Embassy and British Council in Tashkent, the Ambassador noted:
I am very proud that within the last few months, we've been able to bring to Uzbekistan both the Globe's fantastic touring production of Hamlet, and the new film version of MacBeth.
Music was provided by the Piper and Drummer from the London Scottish Regiment, a choir and the Tashkent Flyin' Up band who performed traditional and popular British music at the event.
The reception was sponsored by a range of local, international and British companies, representing good examples of UK-Uzbekistan cooperation.
Published 14 June 2016