World news story
British Embassy Tashkent celebrates the Queen's Birthday
Her Majesty's Ambassador George Edgar hosted a reception at his residence on 13 June 2014 to mark Her Majesty's The Queen's Birthday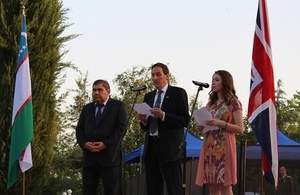 Her Majesty's Ambassador George Edgar hosted a reception at his residence on 13 June 2014 to mark Her Majesty's The Queen's Birthday and to recognise the strengthening relationship between the UK and Uzbekistan.
Over 600 high-profile guests attended the reception. They were members of the British community, the diplomatic corps, and members of the Uzbek political, business and cultural community. Guests included Mr Elyor Ganiev, Minister of Foreign Economic Relations, Investment and Trade, and Senator Safaev, Chairman of the Senate Foreign Relations Committee. Among special guests were also Facebook fans of the Embassy and the British Council, who participated in a quiz on the British Monarchy and won an invitation to attend the Queen's Birthday reception.
Ambassador Edgar welcomed the guests and spoke of the strengthening UK-Uzbekistan bilateral relations before proposing a toast to the Queen:
There has been a lot of activity in the bilateral relationship between the UK and Uzbekistan over the last year. We were pleased to welcome Minister Ganiev and Foreign Minister Komilov to the UK in November, and Baroness Warsi, the Senior Minister of State at the Foreign Office, made her third visit to Uzbekistan in April this year. And I have been reminded by various events over the last few days of how active the British Council is in support of the Uzbek Government's ambitious plans for English language learning, and for vocational training to equip young people with the skills they need for employment, the Ambassador said.
Music was provided by the Exemplary Orchestra of the Ministry Defence of Uzbekistan and an accordionist who played a programme of traditional and popular British music.
The reception was sponsored by a range of local, international and British companies representing good examples of UK-Uzbek cooperation.
Published 16 June 2014