World news story
British Embassy supports "After Care" survey on Foreign Direct Investments in Kosovo
Embassy project helps the government identify obstacles to improve business climate and attract new investments.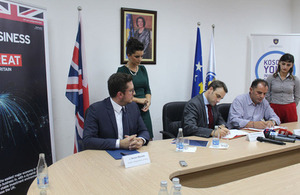 On 22 September 2015, British Ambassador Ruairí O'Connell together with the Head of the Kosovo Chamber of Commerce, Safet Gerxhaliu, and the General Director of the Kosovo Investment and Enterprise Support Agency (KIESA), Besian Mustafa, signed a contract for the project "After Care for Foreign Investments".
Through interviews with current investors, the "After Care" survey aims to give the Government of Kosovo a roadmap of problems, opportunities, and suggestions for improving the business climate. Attracting foreign investors is key to generating new jobs and increasing employment.
The "After Care" project will inform evidence-based policy-making and serve to strengthen the emerging private-public dialogue.
During the signing ceremony at the Kosovo Chamber of Commerce office, Ambassador O'Connell said:
As British Ambassador, I am happy to support the initiative of KIESA and the Kosovo Chamber of Commerce. The way to attract foreign investors is clear: sufficient political will, a judiciary determined to act against those that break the law, and better policies to support investments .
For more information on our activities, please visit the British Embassy Pristina website or follow us on Twitter @UKinKosovo and Facebook
Published 22 September 2015