World news story
British Embassy Sofia and partners launch first pilot Sexual Assault Referral Centre in Bulgaria
HMA Emma Hopkins OBE and HM Consul Simon Tucker take part in the launch of the first sexual assault referral centre in Burgas.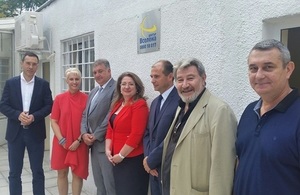 British Embassy Sofia and local partners officially launched VSELENA Centre, the first Sexual Assault Referral Centre (SARC) in Bulgaria. The main partners in the pilot project are Burgas Municipality, Burgas Regional Police, Demetra Association, Burgas Regional Prosecutor's Office, Burgas Regional Administration, MBAL Burgas, Sozopol municipality, SATURN Centre (West Sussex), and the Embassy.
VSELENA is located in central Burgas, and its hotline is run 24/7. Privacy and confidentiality is a priority. The Centre's mission is to improve the quality of care received by victims of rape and sexual assault, to increase the number of victims who speak out after their traumatic experiences, and to ensure access to just judicial proceedings. VSELENA's aim is to offer a victim-centric social service that will constantly develop and improve and that will serve as a model for other SARC centres throughout Bulgaria.
The Centre provides 24-hour emergency care and support for victims of sexual assault. It is a multifunctional facility comprising of forensic medical rooms, rooms for counselling, and private areas for victims. Specially-trained staff help victims feel safe and help them in take informed decisions about what to do next.
HMA Emma Hopkins OBE and HM Consul Simon Tucker took part in the launch together with Prosecutor General Sotir Tsatsarov, Burgas Mayor Dimitar Nikolov, Deputy Minister of Tourism Irena Georgieva, and MoI Secretary General Georgi Kostov.
Ambassador Hopkins said:
I am delighted to be part of the official launch of the first pilot Sexual Assault Referral Centre in Bulgaria and would like to thank all the partners in this project who worked hard to set up the centre and make it work.

SARCs have a great impact, because they offer a victim-centred approach. All the partners in the SARC, whether they are police officers, social workers, forensic doctors, psychologists, or prosecutors, work in partnership to support and advise the victim. By giving the victims the information and support to make their own decisions, we empower them to recover some of the control they lost in the attack. This way, victims are not alienated and become an important part of the investigation, ensuring law enforcement can collect the necessary evidence to find and prosecute the perpetrator.

If we are successful, we will see more sexual assaults and rapes reported. This is a good thing. From my experience of working on sexual violence, once you provide good services for victims, more seek help and report their experiences. VSELENA will start to work toward that goal, and victims can know that there is a safe place they can start their recovery in. In turn, we will learn more about the nature and prevalence of sexual violence in Bulgaria.
HM Consul Simon Tucker said:
This project is only as strong as the partnership that has formed to create and run VSELENA. The partnership makes the victim-centred approach possible. Only by working together can we make the project a success and give victims the support and care they so desperately need. I am delighted that the link between the SATURN Centre in the UK and the VSELENA Centre will continue through a formal twinning process so that best practices can be developed and shared.

I hope that next year we can share the good results achieved by the VSELENA Centre and expand the provision of services like SARC across Bulgaria.
Published 19 July 2016