World news story
British Embassy Ljubljana marks International Day against Homophobia and Transphobia
Charge d'Affaires Christopher Yvon and British Council Director Conor Snowden issue a statement to mark the International Day against Homophobia and Transphobia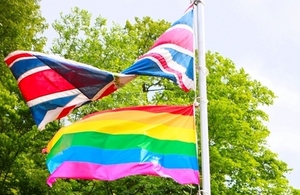 Today we mark this year's International Day against Homophobia and Transphobia (IDAHOT) by flying a rainbow flag outside the British Ambassador's Residence. We also express our support to the coming Ljubljana Pride Parade and are joining in the call for an end to discrimination and support the LGBT community in their fight against inequality and injustice.
This year's IDAHOT theme is Free Expression! In some countries freedom of expression for LGBT rights is silenced and in others where it is legally guaranteed and politically defended, LGBT people still encounter everyday limits on what they can express about who they really are, or on their visions for social change.
UK's work to protect the rights of LGBT people through international institutions is an important part of our international efforts to address the issue. Through our Embassies and High Commissions, we take action and lobby for changes in discriminatory legislation and practice. Our Embassies, the British Council's offices and High Commissions moreover support the work of civil society organisations in their efforts to change social attitudes and behaviour toward LGBT people through organisation of and support to activities in host countries.
The UK is also committed to protecting the rights of LGBT people at home. On 29 March 2014 the first same sex weddings took place in Britain and a rainbow flag was flown above the Cabinet Office to mark the historic milestone for civil rights.
Prime Minister David Cameron said on the day:
The introduction of same-sex civil marriage says something about the sort of country we are. It says we are a country that will continue to honour its proud traditions of respect, tolerance and equal worth. It also sends a powerful message to young people growing up who are uncertain about their sexuality. It clearly says 'you are equal' whether straight or gay. That is so important in trying to create an environment where people are no longer bullied because of their sexuality - and where they can realise their potential, whether as a great mathematician like Alan Turing, a star of stage and screen like Sir Ian McKellen or a wonderful journalist and presenter like Clare Balding.
All of us need to reflect on the role we have to play in challenging all forms of discrimination. Today we have the opportunity to consider how we can work towards eliminating homophobia and transphobia and promoting diversity and tolerance.
Charge d'Affaires Christopher Yvon and British Council Director Conor Snowden
More on our LGBT work
More on Equal Marriage
Foreign & Commonwealth Office Human Rights and Democracy Report 2013
Published 16 May 2014