World news story
British Embassy in Tashkent donates publications on human rights
On 1 May 2014 British Ambassador George Edgar met Dr Akmal Saidov, Director of the National Human Rights Centre of Uzbekistan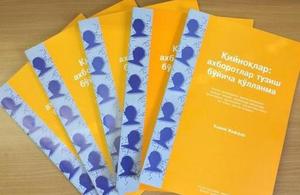 The aim of the meeting was to dicsuss issues of bilateral cooperation in the field of human rights and to hand over to the NHRC 500 copies of an Uzbek-language Handbook on Torture Reporting that has recently been republished with the support of the British Embassy in Tashkent.
Around 30 representatives of state bodies attended the handover ceremony in the NHRC, including from the Office of the Ombudsman, the Supreme Court, the Ministry of Justice, the Ministry of the Interior, the Office of the Prosecutor General, the In-Service Training Centre for Lawyers under the MoJ, the Higher Academic Courses under the OPG, and the Tashkent State Law University. Handbook was initially published in Uzbek in 2003 in cooperation between the NHRC and the British Embassy. It was recently republished with the financial support of the British so that the NHRC can share it with human rights professionals in relevant state agencies and non-governmental organizations.
The Torture Reporting Handbook was produced by the Human Rights Centre of the University of Essex in 2000 with the support of the Foreign and Commonwealth Office. Since then it has been translated into dozens of languages and gained recognition among human rights activists worldwide. It is not a technical manual and one does not need any special knowledge in order to use it. The document is a reference guide for anyone who wants to know how to take action in response to allegations of torture or ill-treatment. It explains simply and clearly how the process of reporting and submitting complaints to international bodies and mechanisms actually works, and how to make the most of it.
In his welcome speech at the ceremony Ambassador Edgar said:
I am pleased that we are co-operating actively with the National Centre for Human Rights and the Uzbek authorities in their important work to fully implement Uzbekistan's commitments under the Convention Against Torture. I hope that the republished Handbook will be a useful tool in achieving this goal.
Recent cooperation between the British Embassy and the NHRC also includes visits by British experts to Uzbekistan in 2013 sponsored by the Embassy: by Dr Peter Selby, former President of the Independent Monitoring Board under the UK Ministry of Justice, and Professor Bill Bowring of Birkbeck College, University of London, who met with Uzbek officials to share British experience in torture prevention and protection of the rights of detainees.
Published 1 May 2014