World news story
British Embassy Chisinau opens a book of condolence for Lady Thatcher
A book of condolence will be available to sign from Wednesday 10 to Wednesday 17 April.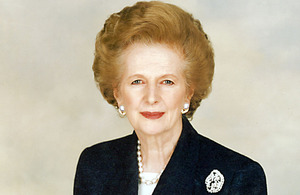 Following the death of former British Prime Minister Lady Margaret Thatcher on 8 April 2013, the British Embassy Chisinau has opened a book of condolence.
The book will be available for signature at the British Embassy (18 Str. Nicolae Iorga) on the dates specified below:
Wednesday 10 April: 3pm - 5pm
Thursday 11 and Friday 12 April: 10am to midday
Monday 15 to Wednesday 17 April: 10am to midday
Lady Thatcher's funeral will take place on Wednesday 17 April. Whilst we will be observing an official day of mourning on this date, the British Embassy will maintain normal working hours.
Prime Minister David Cameron and Foreign Secretary William Hague express their condolences.
Published 10 April 2013