World news story
British Embassy celebrates emblematic 90th birthday of Her Majesty the Queen in Honduras
Honduras has joined the celebrations worldwide to commemorate the emblematic 90th birthday of Queen Elizabeth II in a reception hosted by the British Ambassador, Carolyn Davidson, with friends and contacts of the UK.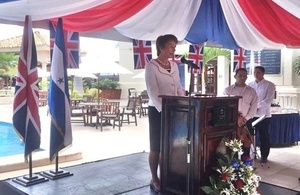 The event gathered members of the Government, private sector, civil society and British nationals, amongst other contacts; all of who paid tribute to the UK's longest reigning monarch. Emblematic photographs of the reign of Elizabeth II welcomed the guests as they started to flock into the Clarion Hotel in Tegucigalpa.
Addressing her guests, British Ambassador Carolyn Davidson highlighted some of changes witnessed by the Queen during her 64 years on the British throne, from the aftermath of the Second World War when she became Queen in 1952, to London's role as host to the world for the London Olympic Games of 2012.
The event was also a celebration of the longstanding UK – Honduras relationship. Ambassador Davidson praised Honduras' commitment to tackle corruption by establishing MACCIH and work together with the OAS and other international partners to address some of the country's most pressing challenges.
Ambassador Davidson also set forth the objectives of the UK in Honduras, which include the promotion of universal human values of integrity, the respect of human rights, good governance and the rule of law to underpin the strengthening of economic ties and improve the business environment.
The reception also featured GREAT images showcasing the UK as a country of heritage, culture, sport, and innovation.
Published 9 June 2016