World news story
British Embassy Bangkok celebrates the 30th Anniversary of Chevening
Mark Kent, British Ambassador to Thailand, hosted a reception at his Residence to celebrate the 30th anniversary of the Chevening Scholarships.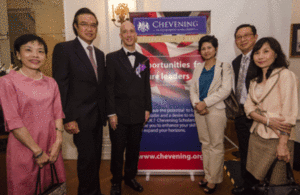 The Scholarships have stood in Thailand and in other countries as a unique opportunity for future leaders to build a global network of continuing professional significance. It enables talented individuals to establish social, cultural, academic or commercial partnerships with the UK.
The British Ambassador Mark Kent said:
In Thailand, the Chevening alumni network has grown to include over 300 scholars, including leaders, directors and decision makers at various governmental and private organizations as well as professors, lawyers and other contributors to society. Most recently, we have sent 8 scholars to the UK for the 2013/2014 academic year. These scholars will add to the long list of leaders, decision makers and innovators.
Akapol Sorasuchart, President of Chevening Alumni Thailand, said: "The Chevening Scholarship is one of the world's most prestigious and most generous bursaries. It is also one of the most competitive as it is both national and international in scope. Winning a British Chevening Scholarship marks the scholar with a stamp of excellence that can open doors to many opportunities during their years of studies and in their career.
The applications for 2014/15 Chevening Scholarships are now open and applications can be made until 15 November 2013. Further details of the scholarship, including priority subject areas (which vary from country to country) and the online application are all available on Chevening website
Further information
Follow British Ambassador Mark Kent on twitter @KentBKK
Follow the British Embassy Bangkok on Twitter, Facebook
Published 16 October 2013