British Deputy Prime Minister visits Brazil
Nick Clegg is accompanied by four Ministers, a business delegation and by representatives from sports, culture and higher education.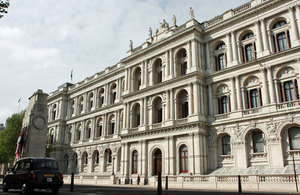 Brasilia (17/06) - The Deputy Prime Minister Nick Clegg will be visiting Brazil on 21st and 22nd of June, leading the most senior British government visit to Brazil since the Coalition government took office.
He is accompanied by Jeremy Hunt, Secretary of State for Culture, Olympics, Media and Sport; David Willets, Minister of State for Universities and Science; Lord Green, Minister of State for Trade and Investment; and Jeremy Browne, Minister of State for the Foreign and Commonwealth Office. British business leaders from sectors such as energy, oil and gas, biotechnology, construction and financial services will also be part of the delegation, as well as representatives of 12 educational institutions including King's College London, Manchester University, and Aberdeen University.
In Sao Paulo the Deputy Prime Minister will be attending a working breakfast hosted by Governor Geraldo Alckmin, with British and Brazilian business leaders, before opening a Green Business event showcasing low carbon solutions from companies and institutions of both countries. In Brasilia he will be signing an agreement on international development with Foreign Minister Antonio Patriota, to increase cooperation on promoting global growth and reducing poverty, especially in Africa.
With London 2012 venues largely ready one year in advance, cooperation on organising and delivering first class major sports events will be high on the agenda throughout. The Deputy Prime Minister will participate in a conference in Rio de Janeiro on sports sustainability and legacy. He will also see firsthand a project in Rio to reach youngsters in poor communities through football, run by the Premier League and local partners.
The visit will conclude with the Queen's Birthday Party at the iconic Copacabana Palace in Rio, which will showcase the best of British culture, fashion and the arts.
Speaking ahead of his visit, Deputy Prime Minister Nick Clegg said:
"This visit shows the UK's determination to renew this vital partnership. The size and nature of my delegation reflects the importance we attach to our relationship with Brazil.
I strongly believe that the UK and Brazil have a great deal in common: as democracies, as champions of human rights, in our commitment to development and green growth, and as proud hosts of the Olympic and Paralympic Games"
Search the news archive
Published 20 June 2011