World news story
British Consulates in Spain work with local partners to increase dementia awareness
The British Consulates in Alicante and Malaga are working with local partners such as the Royal British Legion, Age Concern España, HELP and Age Care to improve services offered to people affected by dementia.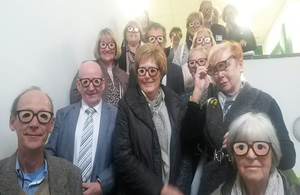 The consulates hosted dementia learning events in Alicante, Murcia and Malaga this week, led by UK dementia experts Sue Brewin and Su Burns. The events sought to help organisations understand the different types of dementia and offer ways to overcome barriers to communication with people affected by dementia.
According to research from the UK-based charity Alzheimer's Society, the number of people diagnosed with dementia in Western Europe will double by 2050, with one in three people likely to be affected.
This means that local organisations that help British Nationals will face more cases. Southern and eastern regions of Spain have large numbers of British residents, many of whom are elderly. Both consulates and local organisations see cases of elderly British residents with substantial care needs who have little or no resources or family to support them.
To qualify for social services such as home help, British nationals must have registered with the Spanish authorities. British Consul for Southern Spain and the Canary Islands, Charmaine Arbouin, said:
Organisations such as Cruz Roja Española and Age Concern can be a lifeline for people affected by dementia. However, they cannot meet all your needs. I strongly urge expats to register on the padron and for healthcare now, before issues arise. Then they can access support from the Spanish system via their local health centre and town hall social services when they need it. If you fail to register then you are unlikely to get help and support from the town hall when you later want and need it.
Dementia covers several types of brain disorder, including Alzheimer's disease, the most common form. There is no cure and the disorders are usually progressive. Common symptoms include memory loss, confusion, speech difficulties and problems with understanding.
Information regarding healthcare for British Nationals living in Spain can be found here.
Published 19 February 2016