British Consulate Malaga warns tourists over car crime
Take care of your passport or face a £100 bill for an emergency replacement, warns the British Consulate in Malaga.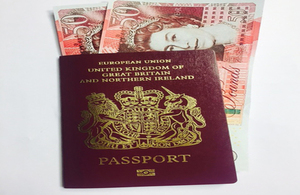 In Andalucia last year, more than 1,000 British nationals had to stump up for an Emergency Travel Document after their passports were lost, stolen or expired. In one in five cases, their passports had been stolen from cars.
To help tackle the problem, car hire companies and the British Consulate have launched a new campaign to reduce theft from vehicles.
The Consulate is partnering with DELPASO, Helle Hollis, Arrow Cars, Record Go, All in Car Hire, Centauro and Europcar, in a campaign that builds on a pilot project with DELPASO last year that reduced passport thefts from their rental vehicles by a third. DELPASO placed posters in their customer area and added flyers from the Consulate in customer welcome packs.
Vice-Consul Rosslyn Crotty said:
We're working with the police, car hire firms and the airport to cut the number of stolen passports. But there are very simple steps that Brits themselves can take. Treat your passport like a £100 note – because that's the cost of a temporary replacement.
Driverscan easily reduce the risk of passport theft, by following these helpful tips:
Avoid leaving your passport in a parked car. People hiring cars at the airport often go straight to the supermarket to stock up on groceries. Thieves target vehicles at supermarkets if they look 'weighed down' with luggage.
Be alert to distraction thieves. They may bump into your car or gesture as if there's a problem with it. Whilst you're talking to them, their friend is stealing your valuables.
Park your car in a well-lit, secure car park. This will reduce the risk of passport theft, and improve personal safety when returning to your car at night.
David, Matthews, Director of DELPASO Car Hire, said:
We rent cars to thousands of British tourists every year and it's important to us that they have a safe, enjoyable experience. Working with the British Consulate Malaga helps us to get safety messages across to our customers, who may be surprised at the advice letter from the Consulate in our welcome pack. As a result of the pilot, we've seen a reduction in the number of vehicles coming back to us with broken windows or other signs of robbery
Please share this story with friends and family travelling to Spain using #PassportAware. Find out more about staying safe in Spain by visiting our website.
Published 25 April 2016