World news story
British Consulate & British Council promote UK artists in New York
The British Consulate General in New York received pieces from the British Council Art Collection to decorate its main event space.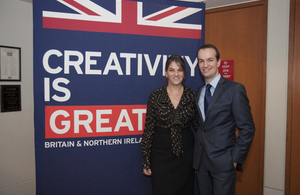 On Wednesday 15 January, the British Consulate General New York and the British Council hosted a reception to mark the arrival of the new artwork on loan from the British Council Art Collection and the start of a new year.
The British Council, the UK's international cultural relations organization, has used its art collection to promote the achievements of leading British artists abroad for over 60 years. The Collection, which started in the late 1930s with a group of works on paper, has now grown to include more than 8,000 artworks including paintings, prints, drawings, photography, sculpture, installations, and video works. The British Council's "acquisitions policy has always been characterised by a spirit of risk taking, combined with an informed appraisal of current practice," said Emmanuel Kattan, Director New York.
At any time, over 50% of the Collection is out on loan for public exhibitions all over the world. The exhibition at the British consulate currently includes 27 multi-media works inspired by both New York City and the UK. It features 14 of the UK's most celebrated contemporary artists, including Conrad Atkinson, Glen Baxter, Austin Cooper, Tracey Emin, Clare Goddard, Frederick Herrick, Damien Hirst, David Hockney, John Kindness, Eyv Saunders, Horace Taylor, Mark Titchner, Joe Tilson, and Mark Wallinger.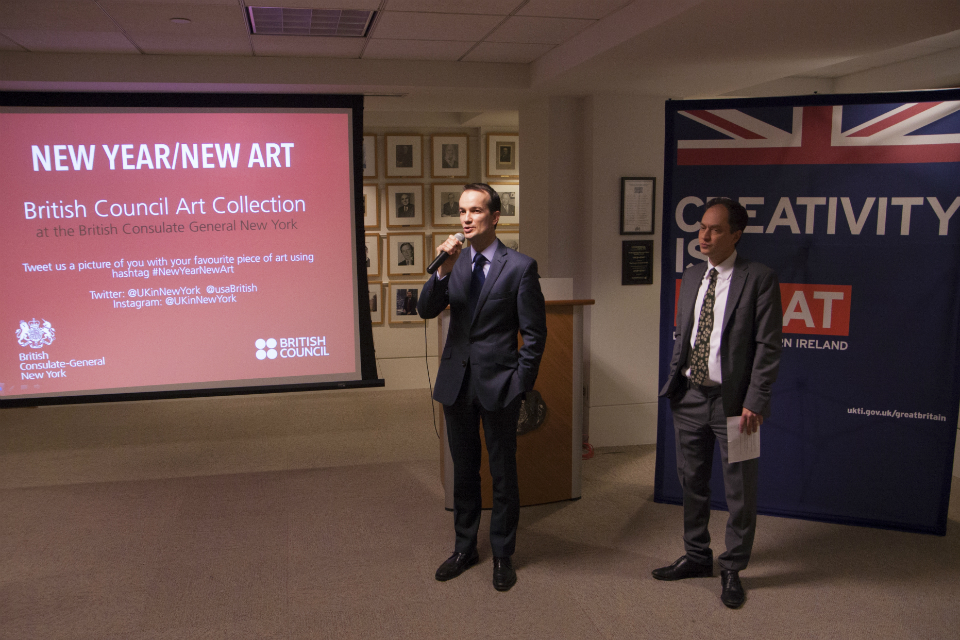 150 guests attended the reception, including many artistic and executive directors of arts and cultural organizations throughout New York City. Tracey Emin, one of the most well-known of the Young British Artists who emerged in the early 1990s, also attended the reception, as three of her own pieces—"Mad Tracey from Margate," "My Beautiful Legs" and "Birds"—are part of the British Council Art Collection at the British Consulate in New York.
Published 23 January 2014