World news story
British Consul General Shanghai meets artist Jay Chou
British Consul General Shanghai, John Edwards met multimillion-selling artist Jay Chou to discuss British entertainment on 25 August.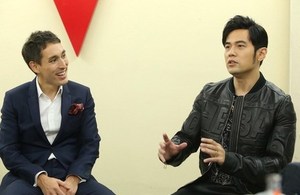 The British Consul General in Shanghai, John Edwards met one of the biggest selling Chinese language pop artists to discuss British entertainment.
Jay Chou is one of the most influential pop artists in a career that has spanned almost two decades. By some estimates Jay Chou has sold over 30 million albums worldwide. Jay Chou is also famous for penning many famous Chinese songs and has acted in several blockbuster films.
John Edwards was a guest of Jay Chou on the Voice of China's studio set. When asking Jay Chou what the UK meant for him, he said:
When I think of various aspects connected to European culture the UK is always the first place I think about.
Indeed Jay Chou chose to have his wedding ceremony in the UK earlier this year. Jay was attracted by, amongst other aspects, the cultural and architectural history that the UK offers. This was the first time that a diplomat has been invited to appear on the programme. And as a fan of Jay Chou, John was able to discuss which of his albums and songs he liked the most.
Commenting after his appearance on the Voice of China-related TV programme, John Edwards said:
This year has been tremendous for UK-China exchange on a multitude of levels, we've had the UK-China Year of Cultural exchange, a visit by the Duke of Cambridge to Shanghai for the GREAT Festival of Creativity, and just next month President Xi will visit the UK for a highly anticipated State visit.
According to the British Phonographic Industry 13.7% of all music consumed globally in 2014 was made by British artists. The Creative Industries in general and the music industry in particular is an important part of the UK's economic growth. The Creative Industries bring £76.9 billion to the UK economy. And there has been various opportunities identified by UKTI specialists in the China market for British exporters.
Published 4 September 2015