Press release
British businesses driving cost savings in development contracts
International Development Secretary Justine Greening has praised British businesses for setting the standard on new cost saving measures to guarantee taxpayers a better deal for development contracts.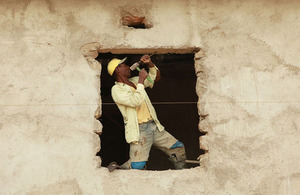 Speaking at the Department for International Development's (DFID) first ever 'Supplier Conference', Justine Greening announced that savings worth millions had been secured from DFID's biggest suppliers.
This follows a landmark meeting last November when Justine Greening assembled the 'Top Twelve' suppliers to hammer out a better deal for taxpayers which resulted in new value for money improvement plans.
Since then 350 organisations have signed up to DFID's Statement of Priorities and Expectations, a 'code of conduct' introduced in January which commits suppliers to improving value for money.
Croydon-based consultancy, Mott MacDonald, was amongst the first to introduce value for money measures. These include pro bono work and further cost savings to current contracts through increasing the amount of resources and infrastructure, such as staff and offices that are shared between project teams.
They have also signed up to applying the latest thinking on LEAN processes – focusing on activities that generate most value for the customer and reducing those providing least – and reporting back on the lessons learned which could lead to further future efficiencies for DFID.
Leading British economics consultancy Maxwell Stamp, who won a British Expertise Award for its pioneering livelihoods programme in Bangladesh, are funding and delivering training workshops to share with DFID officials around the world, at zero cost, their expertise in best practice.
Justine Greening told those attending the 'Supplier Conference' that collaboration was the key factor to further improvements in value for money. She indicated that DFID will monitor more tightly the performance of contracts. In particular, DFID will introduce mechanisms to collate and store lessons learned and feedback on poor performance.
Transparency was high on the agenda, with Justine Greening calling on suppliers to open themselves up to more accountability so that taxpayers can see where development assistance goes. Through the UK Aid Transparency Guarantee, the British Government is already transparent on all its development work with detailed data on development assistance published on the DFID website.
International Development Secretary Justine Greening said:
The UK Government has pushed the industry hard to prioritise value for taxpayers' development assistance. As a result, the biggest contractors in development have signed up to new value improvement plans that will save taxpayers millions and which set a new global standard. But this is a continuous process of improvement to whittle away areas of waste. Collaboration and sharing resources are key to driving up the quality of programmes while driving down waste caused by duplication.
I want contractors to go a step further by opening up not only to the challenge of ensuring better value for taxpayers, but also of ensuring greater transparency and accountability so that taxpayers can see how development assistance is being delivered.
Notes to editors
The 'Suppliers Conference' brought together representatives from across the development sector – NGOs, Suppliers and private sector organisations. This year's conference focused on the role of the private sector in international development; programme management improvement, including mechanisms to share lessons learned; improving value for money through shared supplier facilities, such as offices overseas; supply chain development to effectively meet demand; working with small enterprises; and helping small businesses thrive in public contracting. The Suppliers Conference will take place annually.

In October Justine Greening tightened up departmental spending controls, giving her personal oversight and sign-off on all contracts over £1m. In November the Secretary of State met with the department's 12 biggest suppliers and challenged them to provide better value for money. This was the first time that DFID ministers had ever met top suppliers in order to improve value for money. In January DFID set out new rules to ensure both the government and its suppliers are delivering the very best value for taxpayers' money. More information is available here: https://www.gov.uk/government/news/suppliers-statement-of-priorities-and-expectations. Since then 350 organisations have signed up to DFID's Statement of Priorities and Expectations, a 'code of conduct' which commits Suppliers to improve value for money and to become more transparent and accountable.
General media queries
Follow the DFID Media office on Twitter - @DFID_Press
Published 17 July 2013