World news story
British Business Network launches in New Zealand
UK Trade & Investment (UKTI) launched its successful British Business Network in New Zealand last month.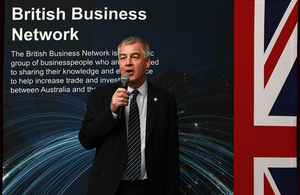 The British Business Network (BBN) aims to encourage British expats or other businesspeople with a connection to the UK, to work with UKTI to increase trade and investment between the UK and New Zealand. The BBN assists UKTI to improve outreach and support for businesses and will provide members with good connections and other business benefits.
Upon joining the network, members agree to commit a small amount of their time to contribute towards UKTI's trade and investment targets, and to act as UKTI's 'eyes and ears on the ground'.
Members are encouraged to be involved in a number of ways including meeting with British companies when they arrive in New Zealand to discuss the business environment, providing leads or introductions to contacts who may need UKTI's assistance and sharing their expertise and experience in specific areas relating to international trade and investment.
The BBN already successfully operates in a number of countries, including Australia.
Consul General and Director General for UK Trade & Investment Australia and New Zealand, Mr Nick McInnes said:
Given the large British expat community in New Zealand, expanding the British Business Network here was a natural next step.
We have been delighted with the response so far and look forward to building a mutually beneficial relationship with our members here.
Since launching in Australia in 2014, the Network has not only helped UKTI improve its outreach and support for British and Australian businesses, but members have greatly benefited from the relationships they have formed.
British Business Network Launch Event in New Zealand
To mark the launch of the BBN in New Zealand, members will be invited to join UKTI's Director General, Mr. Nick McInnes and British High Commissioner Jonathan Sinclair for the official BBN Launch Event in Auckland on April 27.
This event is an opportunity for BBN members to network and learn more about the Network.
The launch event is a BBN member only event and members will receive further information upon registration.
To apply to become part of the network and join our launch event, click here.
Published 13 April 2016