Press release
British artist Wolfgang Buttress to design UK Pavilion at Milan Expo
A structure inspired by the unique role of the honeybee will represent the UK on the world stage at the Milan Expo in 2015.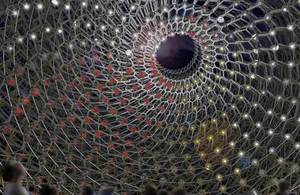 Prince Harry announces winner at ceremony in Rome

UK building companies win £6 million construction contract to make winning design a reality
A structure inspired by the unique role of the honeybee will represent the UK on the world stage at the Milan Expo in 2015.
At a ceremony in Rome today (Sunday 18 May), Prince Harry announced that Nottingham based artist Wolfgang Buttress has won the competition to design the UK Pavilion for the next Universal Expo. Prince Harry is taking part in the unveiling during an official visit to Italy in support of the British Government.
British companies Stage One and RISE have been awarded the £6 million contract to build the winning design, bringing together their creative construction and construction management capabilities. Together the winners represent Nottingham, York and London, with the contracts bringing new jobs to the 3 regions.
Welcoming the announcement, Trade Minister Lord Livingston said:
Success in international markets is at the heart of the government's long-term plan to build a stronger, more competitive economy.

The UK's participation in the Milan Expo will promote the UK's world leading expertise in the creative, life sciences, agri-tech, and food and drink sectors to our top trade and investment partners.

Through the UK Pavilion, we will reach millions of visitors and build on the reputation of the UK established at the 2010 Shanghai Expo and the London 2012 Olympic Games.
Winning artist Wolfgang Buttress opened his first studio in Nottingham after graduating in 1987 and now employs 7 people. Over the last 2 years he has won numerous national and international awards, including the International Structural Steel Award for projects under £2 million in 2013. Earlier this year he received the Kajima Gold Award in Japan for his work 'Space'.
Wolfgang Buttress said:
I'm happy and honoured that I have been selected for this prestigious commission. My wish is for visitors to engage with the UK Pavilion as a whole and for the hive to be recognised as a barometer for the health of the earth; drawing parallels between a hive and human society.

I'm very excited to have this opportunity to work with such a great team, it's an amazing challenge and one we will rise to together.
Once the UK Pavilion is built, visitors will walk through a fruit orchard and enter a natural wildflower meadow. As they near the centre of the meadow, the focal point of the structure will come into view: a golden orb made of fine steel lattice based on the design of a honeycomb. The 'Hive' will pulsate and buzz with the noise of a real bee colony.
The UK Pavilion at the last Universal Expo in Shanghai 2010, designed by Thomas Heatherwick, attracted international acclaim and won gold for best design. In the duration of the 6 month Expo more than 8 million people went inside the 'Seed Cathedral', making it the UK's most visited tourist attraction during that time.
Commenting on the £6 million building contract win, Bob White, Chairman of Rise MC said:
We are very excited to be involved in the UK Pavilion at Milan Expo. It enables us to sustain our particular interest in temporary structures, and allows us to continue our collaboration with Stage One on these project types.

The design of the Pavilion includes some innovative structural solutions which allied with the focal attraction of the 'Hive' will delight the discerning visitor.
Mark Johnson, Managing Director of Stage One said
We're delighted to have been selected to construct the UK Pavilion at the Milan Expo. This is a significant project for Stage One and reflects our increasingly strong relationship with architects and designers. It's a strong validation of our collaborative approach and our ability to deliver creative construction projects successfully.
Notes to editors
1.To request an interview with Wolfgang Buttress, Thomas Heatherwick or Andrew Summers or request images of the winning design, please contact the UKTI press office on 020 7215 5245 (out of hours 020 7215 3505). Images of the winning design are available here: https://www.flickr.com/photos/ukti/sets/72157641104417735
Milan Expo 2015 - Wolfgang Buttress competition design (JPEG, 11.4MB) Milan Expo 2015 - Wolfgang Buttress competition design (JPEG, 816KB)
2.Join in the conversation at: @ukpavilion2015.
3.The Milan Expo invites countries to take part in a global conversation on the urgent issue of how to feed the planet, as the global population increases to 9 billion in 2020.
4.A jury chaired by Andrew Summers, former Chief Executive of the Design Council and current Chairman of Westminster Business School and featuring leading figures from the British design and architectural community selected the design from a strong field of 8 short-listed designs.
5.The 7 other teams competing to design the Pavilion – AL-A; Allford Hall Monaghan Morris and Studio Myerscough; Asif Khan; Barber Osgerby; David Kohn Architects; Grant Associates; and Paul Cocksedge Studio – provided dramatic and strong competition.
6.The UK's creative industries are worth £71.4 billion per year to the UK economy, powering growth, investment and tourism. The UK food and drink industry is a major employer, accounting for 15% of domestic manufacturing output. The industry invests over £1 billion a year in research and development – driving a strong culture of innovation. The agri-tech industry contributed £96.1 billion to the economy in 2013 and is 1 of the world's fastest growing sectors, driven by the rise in global population and the impact of climate change. The UK is recognised globally as being at the forefront of many aspects of agricultural research and biosciences.
7.The UK's participation at the Milan Expo supports wider government work to create a more balanced economy - across all regions and a range of industries and also to help end poverty, through leadership on the global stage.
8.The Milan Expo will start on 1 May 2015 and end on 31 October 2015, consisting of 6 months of meetings, conventions and digital experiences.
9.The first Expo was held in London in 1851 and was such a success that other nations were encouraged to organise similar events such as the Paris Expo in 1889 for which the Eiffel Tower was designed and built.
10.The UK's presence at Expo will be themed 'Grown in Britain' – a reflection of our world class industries and our position as a major trading nation.
11.The UK's major trading partners are included in the 147 countries attending Expo, representing 94% of the world's population. The UK's trading relationship with Italy alone is worth over £32 billion a year and Britain is the leading European destination for Italian investors, up 5% last year, with new projects creating almost 1,800 new UK jobs. Over 20 million visitors are expected to attend next year's Expo.
12.About Wolfgang Buttress:
Wolfgang Buttress was born in 1965. He studied BA (Hons) Fine Art at Nottingham Trent University in 1987. After graduating he set up his first studio in Nottingham and developed his skills in metal work and welding which enabled him to realise and produce his sculptures.
He has exhibited and created artworks in the UK and internationally, including:
'Una' in Canberra, Australia (2012)
'Venus Rising' in Brisbane, Australia (2011)
'Rise' in Belfast, Northern Ireland (2011)
Throughout his career Wolfgang has worked and collaborated with many eminent architects and landscape architects including BDP, Conran and Partners, Gross Max, LDA, Gillespies and Lyons.
His practice has evolved over the past 20 years with his sculptures now being produced nationally in specialist workshops. He currently works with a team 7 people, which include architects and 2D/3D designers.
The winning design combines high-end design and strong ecological credentials with cutting edge UK science, agri-technology and advanced engineering.
Once the UK Pavilion is built, visitors will walk through a fruit orchard and enter a natural wildflower meadow. As they near the centre of the meadow, the focal point of the structure will come into view: a golden orb made of fine steel lattice based on the design of a honeycomb. The 'Hive' will pulsate and buzz with the noise of a real bee colony.
The honeycomb interior pays tribute to leading UK research breakthroughs as a contributor to global food security solutions. LED powered lights represent the recent hi-tech UK innovation of detecting and translating bee vibrations as a way of monitoring the health of the hive.
13.Stage One and RISE:
Stage One and RISE have formed a strategic alliance, on the basis of a joint ambition and the belief that they can provide their clients with a superior service that will benefit from their diverse background and fully collaborative approach.
14.About Stage One:
Winner of a 2013 Queen's Award for Continuous Innovation, Stage One works within the architecture, theatre and event industries. Stage One is a maker: the company's unique strength is its ingenuity - finding ways to realise the creative visions of their clients, no matter how extreme.
15.About Rise:
RISE is an independent management company specialising in construction and project management working across all sectors of the built environment. Established in 2011 by Directors Gareth Stapleton, Bob White and Ian Eggers, RISE has challenged the concept of professional project management in the field of construction.
16.UK Trade and Investment (UKTI) is the government department that helps UK-based companies succeed in the global economy. We also help overseas companies bring their high quality investment to the UK's economy – acknowledged as Europe's best place from which to succeed in global business. UKTI offers expertise and contacts through its extensive network of specialists in the UK, and in British embassies and other diplomatic offices around the world. We provide companies with the tools they require to be competitive on the world stage. For more information on UKTI, visit www.gov.uk/ukti.
17.About BDP:
Founded in 1961 and with studios across the UK, Ireland, the Netherlands, India and China, BDP is a major international, interdisciplinary practice of architects, designers, engineers and urbanists. BDP works closely with users, clients and the community to create special places for living, working, culture and learning across the world.
18.About Simmonds Studio:
Simmonds Studio is a specialist design practice that designs and engineers innovative sculptural and architectural structures, with a track record of designing and engineering some of the world's largest lightweight structures and structurally ambitious sculptures. Fuelled by a passion to produce innovative and awe-inspiring objects, the practice adopts a creative and technical approach to its work, utilising understanding of the underlying mathematics of form, engineering physics and construction technology.
Published 18 May 2014