World news story
British Army Officer Helps Children's Charity in Kosovo
This was published under the 2010 to 2015 Conservative and Liberal Democrat coalition government
Lieutenant Colonel David Jones, Adviser to Commander of Kosovo Security Force, has been raising money for a local Kosovar children's charity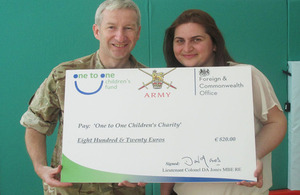 Lieutenant Colonel David Jones has been busy raising much needed funds for the One to One Children's Fund – Kosovo, which helps 500 disabled children and young people. There are approximately 20,000 children in Kosovo with disabilities and other special needs and these individuals are at the highest risk of social exclusion. One to One Children's Fund helps ensure these children receive the specialized support and care they need to help them reach their potential and lead more fulfilled lives.
Lieutenant Colonel David Jones used his contacts in the Scottish Rugby Union, which has a long tradition of supporting children's charities, to donate a Six Nations Scotland Rugby Shirt and ball signed by the National team. The shirt and ball were then raffled off and there were two very happy (and lucky) winners!
The money raised from the raffle will contribute towards supporting four care centres operating daily in Peja, Prizen, Ferizaj and Gjilan. These centres provide a safe environment for children with special needs to have fun, learn essential skills, offer psychosocial support to children and their family, and also a space for these children to socialise in a safe environment.
Lieutenant Colonel David Jones said:
I have really enjoyed the challenge of raising money in Kosovo for One to One Children's Fund and have visited the charity to see the work that is carried out providing great specialised care and support to vulnerable children and their families. It is an excellent charity and I will continue, in the future, to work alongside them, supporting them in whatever way I can.
If you would like to support One to One Children's Fund, either through donations or you have some time or specialist skills please contact them directly at liridona@onetoone-cf.org or +381 38 220 919.