World news story
British Army Football Helps Kosovo Security Force Women's Team
The British Army Football Association and the English Football Association have supported a Kosovo Security Force (KSF) women's team with a donation of football shirts.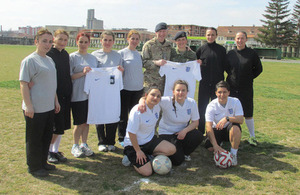 Second Lieutenant Mimoza Budeci, 3 Battalion, KSF Rapid Reaction Brigade, has for a while had a vision to set up a women's football team, within the KSF. This is a new initiative that has never been attempted before. But Lieutenant Budeci is extremely confident that she has the interest of enough women within the KSF to get this project off the ground.
Thanks to his links to the British Army Football Association Lieutenant Colonel David Jones, Adviser to Commander KSF, has been able to access England football shirts and sports coats from the UK to assist with the development of the team.
Colonel Jones said:
I hope the shirts will provide a little encouragement to the players and managers to set up a women's team in the KSF.
Lieutenant Budeci thanked Colonel Jones for his continual support with the team's development and the generous donation of quality equipment.
Published 22 April 2015