World news story
British and Chinese cricket teams step up to the crease to launch 'UK in Shenyang' Week
The match is the first in a series of special events that make up the 2014 UK in Shenyang Week.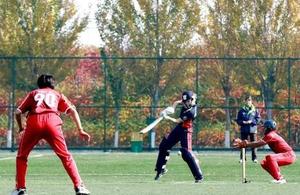 Leading British and Chinese women's cricket teams and sporting stars took to the pitch today (14 October) for a friendly match at the Shenyang Sports University in China. The match, played by the top women's team from Marylebone Cricket Club (MCC) in Britain and by the Chinese national women's team, is the first in a series of special events that make up the 2014 'UK in Shenyang Week'. The teams were joined by giants of the game including the UK's Mike Gatting MBE and Claire Taylor MBE, and China's Jiang Shuyao.
Cricket is the world's second most popular sport after football and is followed by hundreds of millions of people worldwide. The MCC, the world's most famous cricket club, is currently touring China to promote the game and bring a larger Chinese audience to this most traditional of British sports. The tour is part of an ongoing partnership between MCC, the Chinese Cricket Association (CCA) and the Hong Kong Cricket Association (HKCA).
The cricket match marks the beginning of UK in Shenyang Week, a celebration of the best of British culture, business and education in Shenyang. A mixture of fun events open to the public, and invitation-only events focused on particular sectors will promote UK-Shenyang cooperation and introduce the Shenyang public to UK strengths in sport, the arts, retail, manufacturing, urban design, education, science, education and more. The week is sponsored by the British Embassy Beijing, the China Britain Business Council, and the Shenyang Municipal Government and runs from 14-26 October 2014.
British Ambassador to China Sir Sebastian Wood said:
I'm delighted that the MCC team has travelled to China as a great example of sporting diplomacy. Cricket is our oldest national game, and already the world's second most popular sport. I understand that Shenyang is a centre for cricket in China and the women's team here is one of the strongest in Asia.

I hope cricket in China goes from strength to strength, an example of the increasing connections between our two countries.
Former MCC President and MCC Women's Coach Mike Gatting said:
I am very excited about leading this tour. I worked closely with both the Chinese and Hong Kong Cricket Associations throughout my time as MCC President to try and grow the women's game in those countries.

They have both been so enthusiastic and have contributed so much to this partnership and I'm sure this tour will extremely beneficial for all involved. We're taking a great squad of players out with us and I'm sure the budding young cricketers in both China and Hong Kong will learn a lot from them.
Known as the 'cricketing capital of China', Shenyang is a must-visit destination for British players thanks to its burgeoning cricket culture. China's men's and women's national teams train in Shenyang and both the Shenyang Sports University and the Shenyang Aerospace University have a large number of enthusiastic cricketers. The Aerospace University has recently laid a new cricket pitch and hosted a tournament of students from Bangladesh, China, Nepal, Pakistan and Sri Lanka. Shenyang is also home to Jiang Shuyao, the 2012 China men's captain who played a full season at England's Cleethorpes club, and to Matt Smith, a British teacher at Shenyang Aerospace University who has coached a team of Chinese players for the past six years.
Published 14 October 2014