British and Canadian Defence Ministers meet in London
Secretary of State for Defence Dr Liam Fox welcomed the Canadian Defence Minister, the Honourable Peter MacKay, to London yesterday with a ceremonial guard formed by members of the Household Cavalry Mounted Regiment.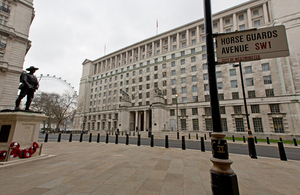 Defence Reform, Libya, Afghanistan and NATO were among the main topics discussed and both Defence Ministers agreed on the importance of the enduring bilateral relationship between their two countries.
Dr Fox said:
The United Kingdom and Canada, in addition to being close partners in NATO, have a strong relationship deeply rooted in our shared history. With their significant contribution to operations in Afghanistan and Libya the Canadian Armed Forces have set a fine example for other NATO members to follow.
The Canadian combat mission in Afghanistan came to an end in July this year; they remain engaged as an ISAF partner in the transition process through their Afghan National Security Forces training programme.
Canada is also a key ally in NATO's Operation UNIFIED PROTECTOR (the Libya mission) of which a Canadian, Lieutenant General Charles Bouchard, is the current commander.
Canada, like the UK, is working through a Defence Reform process that aims to makes its Armed Forces more efficient and more deployable.
Speaking after the meeting, Dr Fox said:
Both our nations are facing economic constraints and I welcome Canada's engagement in their own Defence Reform effort, aimed at delivering a more efficient and deployable Armed Forces. The task before us now is to build on our friendship so together we can face the challenges of the future.
Published 22 August 2011