World news story
British Ambassador visits regions in Uzbekistan
Her Majesty's Ambassador Mr Christopher Allan paid an official visit to Samarkand, Kashkadarya and Surkhandarya provinces.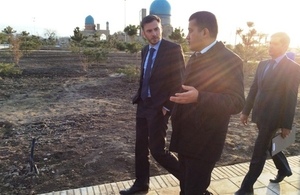 On 21-23 December 2015 Her Majesty's Ambassador, Mr Christopher Allan, paid an official visit to several regions and cities in Uzbekistan.
On 21 December the Ambassador met the Deputy Mayor of Samarkand city Mr Umid Nazarov and Deputy Mayor of Samarkand province Mr Khayriddin Khodjayorov. They discussed economic and social development of the city and the region, Uzbek-British commercial activity and investment opportunities. Mr Khodjayorov highlighted that 9 joint ventures with British capital were opened in the region in 2015.
The Ambassador also visited Shakhrisabz, where the Deputy Mayor of Shakhrisabz Mr Khalilov showed him the main sites, including Amir Temur's Oqsaroy, and on-going reconstruction and preparations for the upcoming celebrations of Tamerlan's 680th birth anniversary.
On 22 December the Ambassador travelled to Surkhandarya province, where he visited Boysun – a picturesque town with rich and unique cultural, folklore, handicraft and ethnographic heritage. The Ambassador visited local Crafts Centre set up with support from UNESCO, and was introduced ancient handicraft techniques and local folklore.
On 23 December Her Majesty's Ambassador met the Deputy Mayor of Surkhandarya province Mr Abdukodirov Abdujalil and Deputy Mayor of Termez Mr Toshpulatov Pulat. They briefed the Ambassador on the socio-economic development of Termez city and Surkhandarya, and investment opportunities in the region. The Ambassador highlighted the fact that boosting bilateral trade and investment with Uzbekistan is one of his top priorities. The British Embassy works with key stakeholders, including the Uzbek-British Trade and Industry Council, to increase awareness of business opportunities in both countries. The Ambassador also discussed the importance of bringing innovative technologies into major economic sectors of the region, such as agricultural processing, irrigation and food production with the Head of Surkhandarya Chamber of Commerce and Industry Mr Tura Bobolov.
The Ambassador also visited Termez State University and several historical sites in Termez. Returning to Tashkent Ambassador Allan said:
This was a useful and fascinating visit to regions with rich history and significant importance today, not least given their significant contribution to Uzbekistan's economy. I believe that in order better understand Uzbekistan and its people, it is vitally important to visit the regions of the country. I hope that my visit also raised awareness of the strength of the relationship between the United Kingdom and Uzbekistan. I am grateful to the various regional officials involved for organizing such an interesting visit.
Published 15 January 2016