World news story
British Ambassador speaks about the UK Economy in Tashkent
British Ambassador delivers a speech at the monthly American Chamber of Commerce meeting in Tashkent.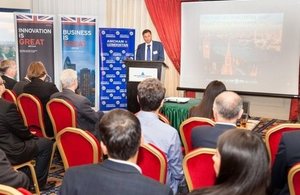 On 21 April 2016 Her Majesty's Ambassador, Mr Christopher Allan, was the honorary speaker at AmCham monthly meeting and delivered a speech about the United Kingdom and what it has to offer.
The meeting took place at the Hotel International Tashkent and gathered over 40 AmCham members, representing the private sector and the diplomatic community in Uzbekistan.
In his speech, the Ambassador provided a broad macroeconomic overview, background on the UK economy, its transformation and its current sectoral make-up. He also shared information on UK businesses in Uzbekistan and current opportunities available for the Uzbek private sector in the UK.
Two opportunities that the Ambassador mentioned in his speech were related to the "UK Export Finance" agency and the upcoming International Festival for Business 2016:
"UK Export Finance" is the UK's export credit agency, which helps the UK exporters by providing insurance to exporters and guarantees to banks to share the risks of providing export finance, as well as making loans to overseas buyers of goods and services from the UK.

The International Festival for Business 2016 (IFB2016) is taking place at the purpose-built Exhibition Centre Liverpool from 13 June to 1 July. IFB2016 will be the largest business festival of its kind in the world promoting both trade and investment. There will be over 70 high-quality events focussing on three key sectors such as energy and environment, digital and creative, and advanced manufacturing.
Talking about IFB 2016 the Ambassador said:
If you're looking to source advanced manufactured goods, or other British products this is an ideal opportunity to get to know the British market.
In his speech, the Ambassador also mentioned the upcoming annual Uzbek-British Trade and Industry Council meeting which is planned to be taking place in the autumn in Tashkent this year.
Also, during the meeting short videos about the UK were shown to the audience, depicting the culture of the UK and what it has to offer as a tourism destination.There was a Q&A session at the end of the meeting when the participants had a chance to ask questions and share their views with the Ambassador.
Published 22 April 2016