World news story
British Ambassador hosts a dinner to celebrate Prince Mahidol Award British Scientist
British Professor Sir Michael Marmot has been awarded Prince Mahidol Award Laureate 2015 in the field of Public Health.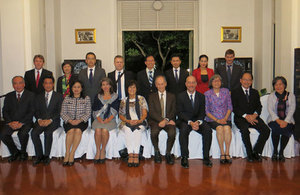 Mark Kent, British Ambassador to Thailand, hosted a dinner at his Residence to celebrate the achievement of British Professor Sir Michael Marmot who has been awarded Prince Mahidol Award Laureate 2015 in the field of Public Health. Honorable guests included the WHO representative; the Assistant Minister of Public Health; the Vice President for Research and International Relations, Mahidol University; the Dean of Medicine Department, Chulalongkorn University; and the President of the Pharmaceutical Research & Manufacturers Association (PReMA)
Ambassador Kent said:
The UK greatly appreciates Thailand's recognition of UK scientists' excellence and achievements. Professor Marmot's pioneering research into the influence of social and economic conditions on health outcomes across and between populations is now the basis of health policy planning in the UK, and, increasingly, around the world. Professor Marmot highlights through evidence that action is required to improve health equity. His passion and commitment to reduce health inequalities is widely recognised and underpins much of our current level of understanding of these issues. I am delighted that through the Mahidol Award, his work can reach a wider audience here in Thailand.
Professor Sir Michael Marmot said:
Social and economic disadvantage lead to inequalities in health between countries, and within countries. Having spent a career in research on these issues, I asked myself if we could use best evidence to influence policy and practice. It would mean going beyond traditional approaches and addressing the conditions in which people live their lives. The Prince Mahidol award gives great encouragement to all of us toiling in this particular field that it's importance is recognised. Our rallying call for social justice and health has just been amplified in a thrilling way. I could not be more pleased.
The UK has recently strengthened its research and innovation partnership with Thailand through the Newton Fund which is helping a new generation of Thai researchers to work with the best of UK research and science.
About Professor Sir Michael Marmot and the Prince Mahidol Award
About the Newton Fund
The Newton Fund has provided up to £2.89 million in Thailand for joint health research on infectious diseases and cancer, key concerns for Thai public health. UK researchers are working closely with Thai counterparts to tackle priorities identified locally. The Fund is also supporting Thai and UK researchers in wider scientific fields to build their capability; to exchange people; to share information; and to build new partnerships. In total the UK and Thai governments have committed up to £20 million to the Fund over 5 years.
Further information
Follow British Ambassador Mark Kent on twitter @KentBKK
Document information
Published: 26 January 2016