World news story
British Ambassador discusses green economy with Uzbek students
On 12 November, the British Ambassador to Uzbekistan delivered a guest lecture at the Westminster International University in Tashkent.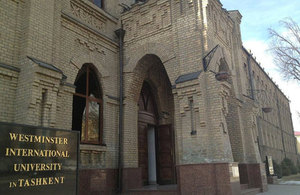 Ambassador George Edgar delivered a guest lecture on "Green Economics and the UK" for the WIUT students and the academic staff. In his presentation Ambassador Edgar covered the concept of a green economy and the British government's policy, regulations and incentives designed to develop a low carbon economy in the UK.
Ambassador Edgar spoke about the impact of climate change on economic development, as well as methods - and economic benefits - of improving energy efficiency across the economy. In his lecture Ambassador Edgar emphasised that the issue is not about a choice between the environment or growth, but about choosing green growth, in the interests of present and future generations.
The Ambassador said:
I'm always glad to speak to students at WIUT because they listen and they ask interesting and challenging questions.

Today's lecture was a chance to speak about issues that matter to the British Government - and to me personally - and to have a good discussion with young people who are happy to engage with a sometimes complex subject.
The lecture provoked a lively discussion and Ambassador Edgar answered additional questions from the audience.
Published 12 November 2014