Press release
British aid flight carrying medical supplies for Ebola treatment facility lands in Freetown
Britain's latest Ebola aid flight carrying vital medical supplies has landed in Freetown, Sierra Leone.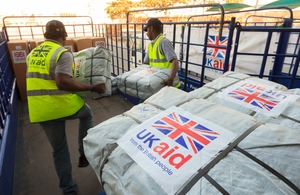 Britain's latest Ebola aid flight carrying vital medical supplies landed in Freetown yesterday, International Development Secretary Justine Greening has confirmed.
This was the UK's sixth aid flight and carried almost £900,000 worth of medical equipment needed for the 92 bed treatment facility in Kerry Town, including blood banks, centrifuges and protective equipment such as goggles and gloves.
International Development Secretary Justine Greening said:
As part of Britain's £125 million response we are building six treatment centres across Sierra Leone which are vital to controlling and defeating the Ebola outbreak.

We will provide direct care for up to 8,800 patients over six months and this latest flight has delivered the kit needed to provide treatment for Ebola victims.

Britain is committed to helping Sierra Leone defeat this terrible disease and we are calling on the international community to ramp up its efforts.
Aid supplies delivered so far include: 20 vehicles including ambulances; 75 water tanks; 3 incinerators for disposing of clothing and other materials; 12 generators; personal protection equipment; radio equipment; lighting sets; chlorine for sanitation; WC facilities; temporary warehouse tents; 14 air conditioning units and isolator equipment.
Notes to Editors
The UK has pledged £125 million to support the global effort to contain, control and defeat the disease in Sierra Leone.

This includes support for 700 Ebola treatment beds. These will provide direct medical care up to 8,800 patients over six months. It will also shore up the country's stretched public health services to help contain the disease. This includes vital supplies such as chlorine and protective clothing for thousands of health workers.

With UK support, WHO are now training over 120 health workers every week.

750 Ministry of Defence personnel will be deployed to help with the establishment of Ebola Treatment Centres and an Ebola Training Academy. This will include:
The deployment of RFA Argus to take and support three Merlin helicopters, aircrew and engineers in the region to provide crucial transport support to medical teams and aid experts. This will involve around 250 personnel

Over 200 military staff to run and staff World Health Organisation-led Ebola training facility that will assist in the training of healthcare workers, logisticians and hygiene specialists who are needed to staff treatment units

300 military personnel making up the existing UK taskforce plans focussed on delivering support to the Sierra Leone Government
On 2 October the UK hosted - alongside the Government of Sierra Leone - an international conference to rally the global community to provide an effective international response. The conference brought together more than 20 governments, a dozen charities and NGOs, the UN, World Bank, health experts and the private sector to pledge funds, equipment and health workers.
General media queries
Follow the DFID Media office on Twitter - @DFID_Press
Published 19 October 2014