Britain's new ambassador arrives in Israel
Matthew Gould, 39, is the first Jewish ambassador to represent the UK in Israel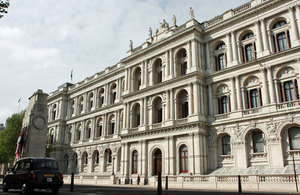 Britain's new ambassador to Israel, Matthew Gould, and his wife Celia landed at Ben Gurion International Airport earlier today at the start of their posting to Tel Aviv. Ambassador Gould, 39, is Britain's first Jewish ambassador to Israel.
In a video clip recorded for the Embassy's YouTube channel just before their departure, Ambassador Gould said "My wife and I are hugely excited to be going to live in Israel." He added that, "I'm going to be dealing with issues that matter to the UK, but also to the whole world … I'm going to be living in one of the world's most extraordinary places - a country with an amazing culture, an extraordinary history and one of the world's most high-tech economies."
Ambassador Gould outlined his three goals: Explaining Israel to Britain; explaining Britain to Israel and forging a strong partnership between the two. Ambassador Gould said: "I need to try and understand Israel, talk to as many people as I can, understand what Israel is thinking and how Britain can best play a role … I need to give a strong message from Britain that as Israel goes down the difficult path to peace, Israel isn't alone." Ambassador Gould went on to say, "I'm going to be promoting the strongest partnership I can between Britain and Israel. Britain is very clear: We regard Israel as an important strategic partner."
Britain's new ambassador to Israel
Ambassador Gould served as Principal Private Secretary to the Foreign Secretary for three years following a stint as private secretary for foreign affairs to the prime minister. He also served for two years as the deputy head of mission at the British Embassy in Tehran, where he visited the city's synagogues and kept in touch with the Jewish community there. Ambassador and Mrs Gould will be joined at their Ramat Gan residence by their dog and two cats.
Ambassador Gould succeeds Sir Tom Phillips, who recently took up his new position as Ambassador to Saudi Arabia.
Published 12 September 2010