Britain urges more support for Somalia at UN talks
Andrew Mitchell calls for more funding from UN members in New York, as disease threatens Somali families hit by the crisis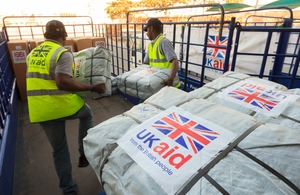 Long-awaited rains threaten to bring disease to hundreds of thousands of vulnerable families, bringing further misery to southern Somalia, Andrew Mitchell will warn the international community in New York today.
Speaking ahead of his visit to the United Nations General Assembly, the International Development Secretary will urge countries to "reach deeper into their pockets" with as many as 750,000 thousand people in Somalia, mainly children, in danger of dying.
He said Britain had taken "a lead role" while some other countries appear to be happy to be "merely bit part players" and called for a medium term response from the international community in a crisis likely to last into 2012.
Mr Mitchell will praise the "brave and committed" work of humanitarians working in Somalia, without which "many more lives would have been lost".
Despite the significant challenges of getting aid to people who most need it in southern Somalia, one of the world's most dangerous places, Mr Mitchell will report that over 800,000 people there are being reached with food assistance.
As concerns rise about the likely impact of disease on people in Somalia made weak and vulnerable by months of hunger, Britain is also supporting the vaccination of 1.3 million children against measles and 670,000 against polio.
In addition, Britain's humanitarian assistance to the Horn of Africa has already delivered emergency food for 2.4 million people in Ethiopia and safe drinking water for 300,000 Somalis in Dadaab refugee camp, northern Kenya.
Speaking in advance of the UN General Assembly, Mr Mitchell said:
October threatens to be the critical month in Somalia. In a bitter irony, the rains that are so desperately needed - and will help recovery in the long term - will bring disease that threatens the lives of hundreds of thousands of vulnerable people, weakened by hunger.

Getting aid into conflict-ridden Somalia, the epicentre of this crisis, is incredibly hard. But with so many lives at stake, this is no time for excuses. British assistance is saving lives, and I pay tribute to the brave, committed humanitarians who are risking their own safety to help others.

The international community must now dig deeper into their pockets to ensure that emergency aid gets to those people who will continue to need it until the end of the year and beyond. Britain has taken a lead role, others should not be happy as merely bit part players.
Published 20 September 2011