Britain to provide emergency aid to Sudan
The British Government today announced its further support for a rapid response fund in reaction to the fragile humanitarian situation in Sudan.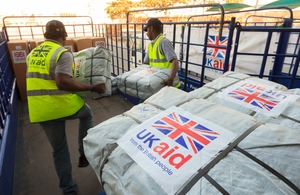 As large numbers of people move around the country as a result of the referendum on independence for the South, the emergency fund will enable the British Government to react quickly through the UN and NGOs to any needs that might arise on the ground for emergency shelter, water and sanitation, medicines, and health care
Thousands of Southerners living in the North are returning to the South. The UN reports that bottlenecks are developing at makeshift camps in transit and on arrival in Southern Sudan. If these conditions persist, significant humanitarian needs may arise.
There are also fears that it could lead to unrest and further displacement of people, making a difficult situation for one of the poorest regions in the world even worse.  
Britain stands ready to provide:
Safe water and sanitation facilities to around 1.5 million people
Treatment for malnutrition to around 50,000 children
Emergency health care to around 2 million people
Seeds and tools to around 1.2 million people
Plastic sheeting and blankets to around 1 million people
Learning and recreational activities to around 500,000 children across both northern and southern Sudan
Secretary of State for International Development Andrew Mitchell said:
"I visited Sudan just a few weeks ago and I saw for myself the scale of the challenges facing the country particularly in Southern Sudan and in Darfur.
"Any return to mass conflict in Sudan would not only affect its own citizens but could also have horrendous implications for the wider Horn of Africa region.  As the referendum approaches, we're working for the best outcome from the peace process, but we have to plan for the worst. That is why we are preparing for a humanitarian response in a prudent and sensible way.
"Over the longer term, the British Government is helping the people of Sudan to tackle the inequality and injustice that are the root causes of the conflicts that have affected the country for so much of the last 30 years.  This is not just the right thing to do, but is also in the UK's national interest."
Published 7 January 2011