Press release
Britain becomes 'brewing powerhouse'
Analysis reveals a new brewery is opening in Britain every other day.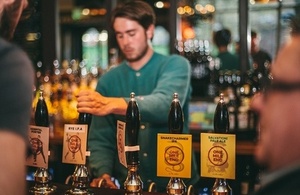 Britain has returned to its rightful role as a global 'brewing powerhouse', Community Pubs Minister Marcus Jones declared today (11 August 2015), as analysis reveals a new brewery is opening in Britain every other day.
New figures from the British Beer and Pub Association reveals there are now more than 1,400 breweries in Britain.
A surge during the past 2 years has seen breweries opening up at rate of 3 every week. This trend is reflected right across the country with all regions sharing the success of the British beer boom.
Innovative craft breweries, including Magic Rock in West Yorkshire, brew pubs such as One Mile End in East London, and award-winning regional breweries, like the Peak District's Thornbridge, are all playing their part in the British beer boom.
And the result has been an economic boost and jobs for young people right across the country. Latest figures show the beer and pubs sector is now responsible for 869,000 jobs in Britain.
Community Pubs Minister Marcus Jones said:
Today's figures show Britain is back on the map as a global 'brewing powerhouse' with 3 breweries opening up every week.

We gave the world the I.P.A and the Great British pint has been revered ever since. This brewing boom means we are not only creating some of the world's best beer that we all enjoy in our local pub and at home but also thousands of jobs and a multibillion-pound boost to the economy.
Speaking before he was due to judge the Champion Beer of Britain at the Great British Beer Festival, the minister added:
There is an increasing confidence in the beer and pubs sector with pubs diversifying, community ownership of public houses starting to take off and a booming brewing industry. We are determined to build on this momentum and our strategy of lower taxes, less regulation and a growing economy is the best way to support this thriving and diverse sector.
Beer Sommelier Sophie Atherton said:
I don't think there has ever been a better time to be a beer drinker. The variety of beers brewed in the UK today is world class and lends itself perfectly to showing off what a versatile a drink beer is.

It can be paired with food just as well as wine can and the boom in brewing means there's now a beer for everyone – all the way from a sessionable pint of English bitter or locally produced lager on to hoppy craft brews and boozy barley wines or imperial stouts served at the end of a meal with a cheeseboard.
Mike Benner, from the Society of Independent Brewers, said:
This is an incredibly exciting time for British craft brewing. The number of breweries is soaring leading to more jobs across the UK and more choice for consumers. With such an exciting range of different colours, strengths, styles and flavours, in draught, bottle or can format now available, I'm sure there is a beer out there to suits all palates.
Further information
| Region | Number of breweries July 2013 | Number of breweries July 2015 |
| --- | --- | --- |
| East of England | 107 | 135 |
| East Midlands | 118 | 149 |
| London | 45 | 76 |
| North East | 44 | 52 |
| North West | 136 | 189 |
| Northern Ireland | 7 | 16 |
| Scotland | 69 | 91 |
| South East | 133 | 192 |
| South West | 142 | 182 |
| Wales | 59 | 80 |
| West Midlands | 105 | 126 |
| Yorkshire and the Humber | 127 | 143 |
| Total | 1,092 | 1,431 |
Source: British Beer and Pub Association
| Regions | Jobs supported by beer and pub sector | % of employment |
| --- | --- | --- |
| East of England | 77,452 | 2.6 |
| East Midlands | 66,181 | 3.0 |
| London | 89,670 | 2.1 |
| North East | 35,784 | 3.1 |
| North West | 89,349 | 2.7 |
| Northern Ireland | 16,755 | 2.0 |
| Scotland | 60,295 | 2.3 |
| South East | 140,033 | 3.2 |
| South West | 91,600 | 3.5 |
| Wales | 42,167 | 3.1 |
| West Midlands | 86,155 | 3.4 |
| Yorkshire and the Humber | 73,681 | 2.9 |
| Total | 869,122 | 2.8% |
Source: British Beer and Pub Association
Case studies
One Mile End (Whitechapel, East London):
One Mile End brewery was established in October 2014 beneath the White Hart brew pub in Whitechapel, East London. Head brewer Simon McCabe initially started out on a small kit, which limited capacity to 2,400 litres per week. However, as the brewery's reputation quickly spread throughout the capital his beers were soon in demand by more than 50 local pubs.
Within 6 months the brewery surpassed its first-year brewing target and is now having to move to a new site to cater for demand, where capacity will more than quadruple. One Mile End's core range of beers all take their names from famous local heritage sites (such as the Royal London Hospital) and local personalities including the musician Jah Wobble (of Public Image Limited) who is now an ambassador for multiculturalism in the East End of London.
Bad Seed Brewery (Malton, North Yorkshire)
Hailing from the Yorkshire foodie haven of Malton, Bad Seed Brewery opened just 2 years ago but has already moved on to a bigger site as it aims to treble capacity so it can fulfil orders it is getting from abroad. In its first 6 months, the brewery produced 14,000 litres of beer. But that is now the figure it is aiming to produce every month. In the early days, the 2 friends behind the brewery (Chris Waplington and James Broad) used to delivery the beer themselves, however they have since expanded to using 5 distributors right across the country.
Bad Seed's beers are readily available across the brewery's native Yorkshire but they have recently appeared in the members' bar of the Tate Modern art gallery too. Orders from Spain and Italy combined with am ambition to take Scandinavia is behind bold new expansion plans.
Thornbridge (Bakewell, Derbyshire)
Arguably Britain's oldest 'craft' brewery, Thornbridge celebrated its 10th birthday this year. It started out as a 10-barrel brewery in the grounds of the Peak District's picturesque Thornbridge Hall in early 2005. The brewery initially focussed on a range of cask beers from traditional recipes but with a unique modern twist by using a wide range of hops from the UK and abroad.
The creativity and flair of an innovative brewing team was encouraged from the start and Thornbridge adopted a strapline of 'Innovation, Passion and Knowledge', which is how it approaches day-to-day business. Since 2005, a 'craft beer' revolution has had drinkers across the country gripped and many breweries have followed in its footsteps.
By 2009, Thornbridge moved to a larger site in Bakewell to meet demand. It has since won more than 350 national and international awards and sells its beer in bars across the world as well as major British supermarkets.
Magic Rock Brewing Co (Huddersfield, West Yorkshire)
Brothers Richard and Jonny Burhouse started Magic Rock in 2011, inspired by their shared love for great beer and the burgeoning US craft beer scene. They were driven by a desire to bring exciting characterful beers to their local market and the rest of the country.
To meet demand the brewery had to increase capacity twice within its first year and by 2012 it was given the accolade of 'second best new brewery in the world' by online beer app Rate Beer. Earlier this year, the brewery moved again to an even larger site with its own tap room following some £750,000 investment.
Magic Rock recently teamed up with some leading breweries to create the British Beer Alliance. This industry group is working to promote and protect the interests of British craft brewers and those who enjoy drinking their beer.
Office address and general enquiries
2 Marsham Street
London
SW1P 4DF
Contact form http://forms.communiti...
General enquiries: please use this number if you are a member of the public 030 3444 0000
Published 11 August 2015
Last updated 12 August 2015
+ show all updates
Added a link to the related Immersive feature
First published.