Press release
Brighton City Deal to help create "Silicon Beach"
A new City Deal will unlock more than £170 million of investment in Greater Brighton to create 8,500 jobs and grow its technology businesses.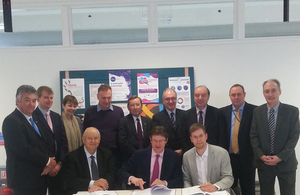 The Greater Brighton City Deal, to be signed today by the government, leaders of local authorities and the Local Enterprise Partnership, will expand the technological base at New England House to make it a major centre for creative and digital businesses - giving the city the chance to compete with other major tech clusters around the world.
The City Deal will also unlock cheaper and faster broadband for Brighton's tech companies by creating a "Digital Exchange" in the heart of the city, where companies collaborate to use combined buying power to get faster broadband at lower prices. This is made possible as the government has agreed to provide flexibility over how money from the Superconnected Cities fund is spent.
Find out what else the government is doing to support and grow the UK economy
All of this means that if you are a working in a tech startup in Brighton, there will be more space in this exciting new hub for you to grow your business, to collaborate with other exciting young companies and take advantage of advice and support available at New England House.
As well as measures to create jobs and growth in Brighton itself, the City Deal will also unlock key regeneration and employment sites in Shoreham and Newhaven by providing certainty over the future of key flood defences. In Newhaven, this will allow the development of a Clean Tech Growth Centre, building on investment in the Rampion Offshore Wind Farm and a new University Technical College. The site in Shoreham is earmarked as an Environmental Technologies Growth Centre, building on Ricardo UK's new £10 million Vehicle Emissions Research Centre on the site.
Deputy Prime Minister Nick Clegg said:
We're giving Brighton the freedom, power and tools to be really innovative and design whole new ways of building a stronger economy and fairer society. This City Deal puts power in the hands of local people who know best what skills are needed in the area to give it a real chance of changing the fortunes of thousands of people in and around Brighton.
Greg Clark, Minister for Cities, said:
Brighton's tech cluster has grown from very little 10 years ago to having 1,500 businesses today. It's already making a huge impact on Brighton's economic performance, and this City Deal will help accelerate its growth by ensuring that it can provide the space and infrastructure for high-value creative-technological businesses to grow. It can help turn Brighton into one of the most prosperous cities in the UK.
The £170 million of investment consists of £6.7 million from central government, £9.8 million from the local public sector and at least £155 million of private investment.
The deal will give local partners the opportunity to guarantee the start dates for key flood defence works at Shoreham Harbour and Newhaven, in return for local contributions to enhance the value of these defences. These defences would protect hundreds of homes and businesses, and by guaranteeing a start date for the protection works to begin, the deal will help secure private sector investment and create thousands of jobs along the coast. If flood defence spending is included, government's total commitment to Greater Brighton will exceed £30 million.
The city of Brighton is currently home to around 1,500 technological companies - the same number as London's Tech City, also known as "Silicon Roundabout" – and has one of the most highly-skilled workforces in the country. The City Deal is focused on making the most of those skills to vastly increase Brighton's contribution to national economic growth.
Brighton is the thirteenth of the 20 Wave 2 areas to conclude their City Deal.
Published 11 March 2014