News story
Bridge for Queen Elizabeth carrier moves to Rosyth
The forward island of the first of the Royal Navy's new aircraft carriers today began its journey to Scotland to join the rest of the ship.
HMS Queen Elizabeth's 680-tonne island, which houses the ship's main bridge, is bound for Rosyth in Fife, where it will be fitted to the rest of ship in March 2013.
The two new Queen Elizabeth Class aircraft carriers - HMS Queen Elizabeth and HMS Prince of Wales - promise to be the biggest and most powerful surface warships ever constructed for the Royal Navy.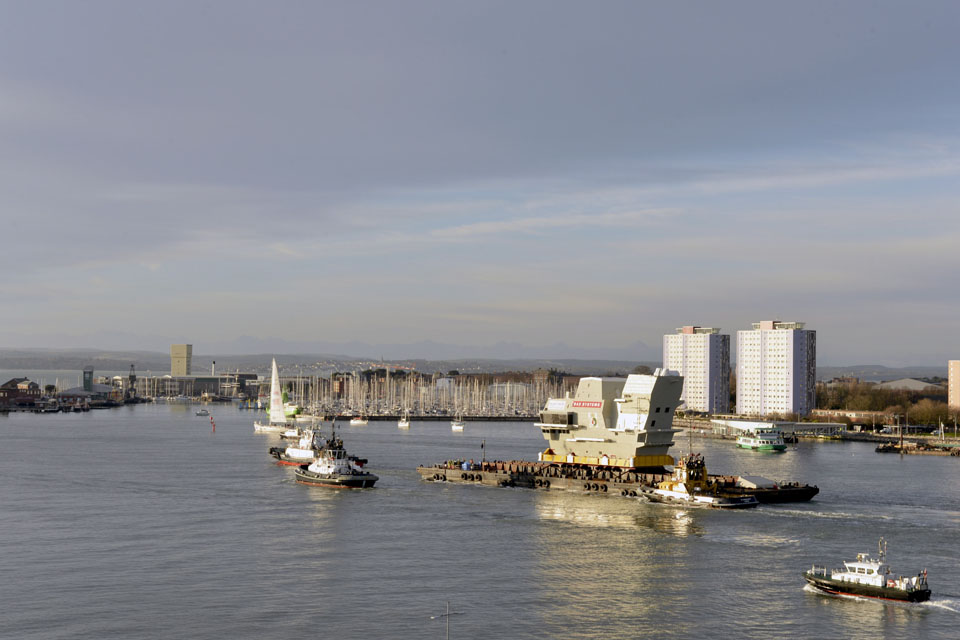 Preparations to move the island from Portsmouth began days ago and included weatherproofing the structure for its first sea voyage. It took 4 days to secure the island to the barge that will take it on its 550-mile journey.
Queen Elizabeth Class project leader for BAE Systems in Portsmouth, Paul Bowsher, said:
Today is a day of celebration - it is both an important and iconic milestone in the programme to build the nation's new flagships.
The delivery of the forward island marks a new and exciting phase in the programme when we begin to really see the immense scale of the Queen Elizabeth Class aircraft carriers as the first ship comes together at Rosyth.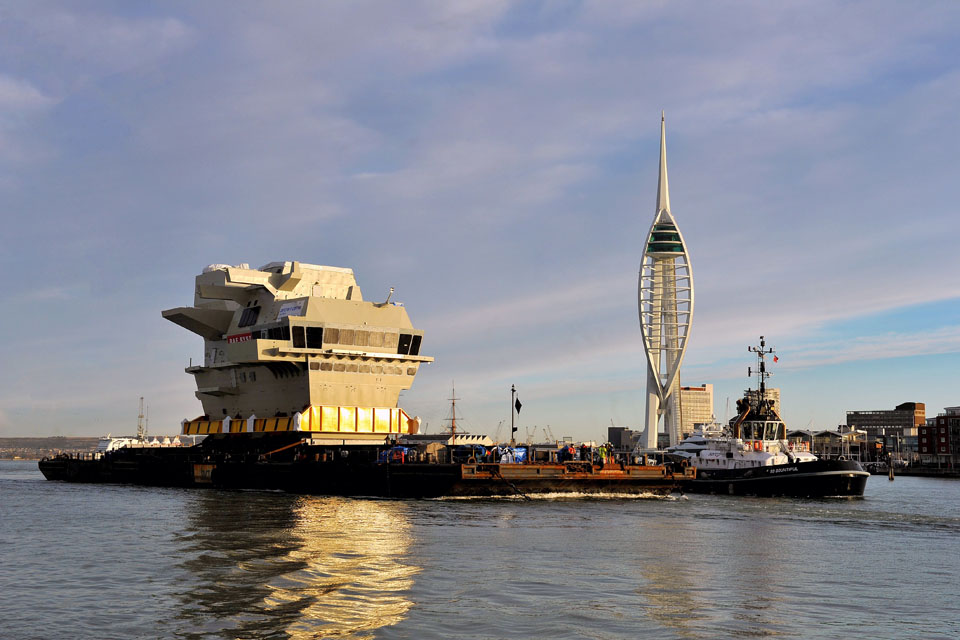 The forward island is the first block to depart Portsmouth with its final paint colours applied and all windows fitted and consoles installed, along with 43 kilometres of cables and 3,101 pipes. The island also proudly displays the HMS Queen Elizabeth crest.
Once the island is lifted onto the carrier and the long range radar has been installed on top, the ship will stand taller than Niagara Falls at 56 metres.
Commander Steve Lynn, the ship's weapon engineer officer, said:
You notice change and progress almost every day. Different sections are being added constantly, but when the island is lowered into place that's the point that Queen Elizabeth will look like a true warship.
The 65,000-tonne Queen Elizabeth Class aircraft carriers will be based in Portsmouth and will be the centrepiece of the UK's military capability.
HMS Queen Elizabeth is due to begin sea trials in 2017 and flight trials from her deck using Lightning II fast jets in 2018.
Published 7 February 2013