World news story
Breaking the stigma surrounding survivors of sexual violence during the war in Kosovo
Speech delivered by the British Ambassador Ruairí O'Connell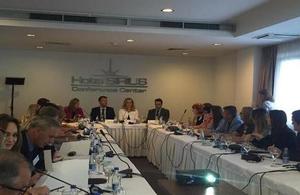 [The original speech delivered in Albanian language]
Dear participants,
I am pleased to address you today at the opening of the workshop to address stigma for survivors of sexual violence during the war in Kosovo.
The fact that we are all here together today, shows how committed we are to working on this issue. Of course, it's hard to be in the shoes of survivors. Therefore, I will never be able to fully understand how survivors feel and how Kosovar society feels about the survivors. So, I want to emphasise that the British government is committed to work in this direction to alleviate their pain. I constantly see the readiness of Kosovan society working for survivors to have equal opportunities; and what is more important, to feel equal.
I especially see this readiness at the Rehabilitation Centre for Torture Victims. Their hard work, now and for so many years has been giving survivors the opportunity and support to become independent economically, and emotionally.
The initiative for the Prevention of Sexual Violence is a global initiative of the British Government, which has gained support all over the world, for a numbers of years, including in Kosovo.
We as an Embassy, have supported and will continue to support initiatives and workshops that relate to empowerment of women, particularly projects aimed at empowering survivors and also combating stigma. Our goal is not to blame survivors of sexual violence and their children for what has happened, not to feel neglected by institutional support, especially by the people of Kosovo itself. The emancipation of the survivors cannot be achieved through a workshop. The culture of prejudices must end. Prejudices are an evil of society which never brings any good. Survivors need support and justice, not prejudice.
Kosovo society should offer them this right, and we as an embassy will always support initiatives to support survivors. Therefore it is very important to engage not only institutions of Kosovo but also all citizens to work and to help survivors feel equal.
In order to succeed, I hope that Kosovo's institutions will continue to work on implementation of existing law and work towards the establishment of the Government Commission.
Distinguished guests, you have the complete support of the British government in the implementation of projects and establishment of the Government Commission.
I would like to remind you that you are our priority. Although it is difficult, we must continue to work hard to have success. Although there is still much work to do, I hope, and believe in your power to bring this processes forward.
I congratulate you on the successes and wish you good luck.
Thank you.
Published 15 September 2016