Brazilian savannah as important as rainforests, says Spelman
The Cerrado region of Brazil makes up 21 per cent of the country and is, biologically, a rich savannah-like ecosystem in the world.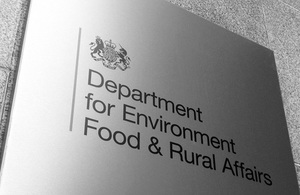 The world needs to recognise that Brazil's savannah-like Cerrado, which is home to a third of Brazil's habitats and wildlife, needs just as much protection as the country's famous rainforests in order to increase biodiversity and combat climate change, Environment Secretary Caroline Spelman said today.
Speaking on a visit to Brazil, Mrs Spelman said that the Amazon rainforests tended to grab headlines around the world, but Brazil has many other important areas for wildlife and climate change that should not be overlooked.
"The Cerrado is globally important in terms of biodiversity and storing the world's carbon dioxide, but it doesn't receive the same attention from the international community. Because of that, people are not aware of the uncertain future it faces.
"The Cerrado is a huge area - as big as France, Germany, Italy, Spain and the UK put together - it's too important to the whole world to leave its protection to chance.
"We want to support Brazil's efforts to protect the Cerrado, and our countries are already working closely together to safeguard it through deforestation monitoring. But the rest of the world needs to get involved too, recognising that this is an immensely varied and vitally important ecosystem. Brazil has already launched a £125 million plan to combat deforestation and protect wildlife in the Cerrado, modelled on the success in the Amazon, and I am keen for the UK to help in any way it can so that this treasured area can continue to help the Brazilian economy grow without causing lasting damage to the wildlife it supports."
Mrs Spelman is visiting Brazil to further strengthen the relationship established in Nagoya during the Convention of Biological Diversity held in October 2010. Brazil and the UK have become key allies in the international efforts to halt the rate of biodiversity loss and drive forward the agreement reached in Nagoya. She visited the savannah-like Cerrado on Wednesday 6 April.
Notes
The Cerrado region of Brazil makes up 21 per cent of the country and is believed to be, biologically, the richest savannah-like ecosystem in the world
The Cerrado is home to one third of Brazil's biodiversity, half of its bird species and supports large mammals such as jaguars, wolves and anteaters.
Published 7 April 2011