Brazilian Foreign Minister welcomed by Foreign Secretary
Foreign Secretary William Hague met with Brazil's Foreign Minister Antonio Patriota today.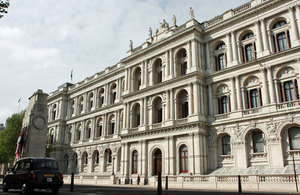 They discussed the excellent cooperation between London and Rio as hosts of the 2012 and 2016 Olympics and Paralympics Games, and the Foreign Secretary welcomed the many Brazilian athletes, performers, Ministers and officials who will be visiting London this summer.
They discussed a range of foreign policy issues, including the deteriorating situation in Syria and the ongoing risks posed by Iran's nuclear programme. They explored how the UK and Brazil can work more closely with Egypt and Libya to help ensure that the Arab Spring leads to more open and accountable societies underpinned by vibrant economies.
The Foreign Secretary underlined the UK's continued commitment to building stronger ties with Latin America, and looked forward to the Brazil Day at the British Business Embassy next month which will bring together top businesses and politicians to drive forward the trade and investment relationship between the UK and Brazil.
The Foreign Secretary said:
"Our relations with Brazil are very important to the United Kingdom. We are delighted by the strides we are making to building stronger ties between our peoples and our economies, and to work together as equal partners in foreign policy. We have had excellent discussions today on the many positive opportunities to develop our relationship, but also ranged widely over world affairs, including the urgent need for a diplomatic resolution to the crisis in Syria."
Published 28 July 2012