Boosting UK-Nigeria relations
Foreign Secretary William Hague and Africa Minister Henry Bellingham met Nigerian Foreign Minister Olugbenga Ashiru at the Foreign Office in London on 7 September.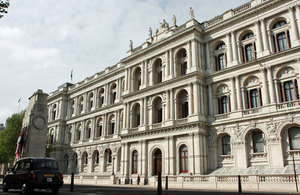 The Foreign Secretary expressed his condolences and solidarity with Nigeria following the bombing of the UN building in Abuja on 26 August. He reiterated the UK's commitment to work with Nigeria on counter terrorism, following the agreement between Prime Minister David Cameron and President Goodluck Jonathan when the Prime Minister visited Nigeria in July.
The Foreign Ministers also discussed building the bilateral relationship and increasing trade links. They spoke about the situations in Libya, Syria, Iran and Somalia, and looked forward to working together at the United Nations General Assembly in New York later this month, and at the Commonwealth Heads of Government Meeting in Perth in October.
Published 8 September 2011