Boost to community pubs with launch of review into restrictive covenants
As part of the Government's commitment to the Great British pub, Community Pubs Minister Bob Neill today launched a review of restrictive covenants…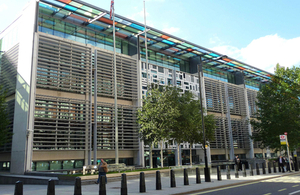 As part of the Government's commitment to the Great British pub, Community Pubs Minister Bob Neill today launched a review of restrictive covenants, a legal clause that can be used to prevent community pubs reopening as public houses following a sale.
Between 2004 and 2009 some 572 pubs are said to have been permanently lost following a sale with a restrictive covenant, potentially depriving thousands of regulars of an important community asset.
A covenant can have a double whammy effect, not only taking away a vital community hub but also preventing local people from being able to step in and revive their 'local' as a community run asset. By changing the use of certain restrictive covenants, communities would be given greater opportunities to use the new 'Community Right to Buy' power in the Localism Bill, which gives local communities the chance to take over and run much-loved local assets, such as the 'local', when they come up for sale.
Speaking at the start of the Great British Beer Festival, Bob Neill said:
Pubs are hubs of community life, as important to the local social scene as they are to the local economy. Throughout their rich and diverse history they have proved themselves to be resilient, enterprising and full of initiative. But time is being called at too many of our 'locals', depriving people of treasured places to get together in the community.

We are putting the people back in charge, giving them the power to step in and save their much loved community assets. Communities across the country are already stepping in to save their pub from closure. By reviewing this restrictive red tape we are giving people another opportunity to use their collective powers to ensure that their locals remain local and continue to thrive at the heart of the community.
One community already stepping in to save their treasured local is Hudswell village in North Yorkshire. When their local pub 'The George and Dragon' closed three years ago and looked likely to remain empty, local residents got together to take action. Forming a cooperative, members sought local investment, and about 100 members of the community put up funds that enabled them to buy the pub. The George and Dragon's garden is now the site for community allotments, the pub includes space for a small shop, a library as well as offering internet access and laptops available to rent.
A welcome move
Groups such as the Campaign for Real Ale (CAMRA) have said that covenants can be used by larger companies to limit competition and close local pubs, and are supportive of the Government's move to consult on the clause.
Mike Benner, CAMRA Chief Executive said:
CAMRA wholeheartedly welcomes this announcement of a Government consultation on the use of restrictive covenants - it's a great success for localism, and shows that Government recognises that pubs are vital community assets that need to be protected. For the new community right to buy scheme being introduced as part of the Localism Bill to work, pubs need to be available for communities to keep open.

It's a victory too for people power: this proposal came from communities on the ground, via their local councils who put the proposals to central Government.
To further support thriving community pubs the Government has introduced a more generous small business rate relief scheme, to help half a million small firms. For two years from October 2010, small firms will receive 100 per cent rate relief (i.e. pay no business rates at all) on properties up to £6,000 Rateable Value, and a tapered rate relief from £6,000 to £12,000. An estimated 330,000 small firms will pay no rates at all.
Notes to editors
1. The consultation will run for 12 weeks from 2 August 2011 to 5pm on 25 October 2011. The consultation paper, complete with electronic response form, is available on the Department for Communities and Local Government website at: www.communities.gov.uk/publications/communities/pubrestrictivecovenants.
2. Restrictive covenants are placed on land or property to control their use. A restrictive covenant may be defined as, a promise by one person with another, for example, by a buyer of land with a seller, not to do certain things with the land. They may often take the form of a contractual arrangement, such as clause in a deed or lease, which limits what the new owner can do with the property and land. Restrictive covenants also have the power to 'run with the land' meaning that it (and the restrictions it imposes) will still be in effect for subsequent buyers of the property or land.
3. Three local councils (Darlington, Newcastle upon Tyne and Ryedale) have applied under the Sustainable Communities Act for the Government to take action on the issue of restrictive covenants. As a result, the government agreed to a public consultation on the issue as a means of understanding the local level impact of covenants on communities. Further information about the Sustainable Communities Act can be found at: www.communities.gov.uk/publications/communities/scadecisions.
4. The Community Right to Buy measures are included in the Localism Bill. The Community Right to Buy will require local authorities to maintain a list of sites of community value put forward for consideration by communities. The local authority will assess the suggestions before recording on the list. When listed land comes up for disposal (either the freehold or a long leasehold), communities will be given the chance to develop a bid and raise the capital to buy the asset. They will then be in a better position to bid to buy the asset when it comes on the market at the end of the moratorium. Further information about the Community Right to Buy can be found at: www.communities.gov.uk/localgovernment/decentralisation/localismbill/communityrights/.
Twitter
Keep up to date with the Department by following us on Twitter (external link).
Media enquiries
Visit our newsroom contacts page for media enquiry contact details.
Published 2 August 2011