Press release
Boost for childminders and hardworking families
New measures to increase childcare options across the country announced by Education and Childcare Minister Elizabeth Truss.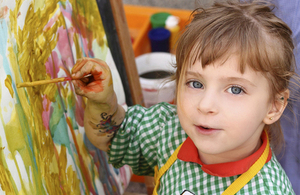 Hardworking parents stand to save money in a new measure to increase childcare options across the country, Education and Childcare Minister Elizabeth Truss announced today.
The number of childminders has almost halved over the last 20 years and plans unveiled today aim to cut the red tape burden from childminders who look after children in their homes and give them the support, training and advice they need to deliver a high-quality service for parents.
Earlier this month, figures showed that the cost to parents of after-school care provided by childminders has fallen for the first time in 12 years - from £72.79 to £64.75, potentially saving parents up to £420 per year.
However, there is much more to do, which is why today we are announcing a freeze on the fees childminders pay to Ofsted for the fifth year in a row, keeping them at a low £35 per year. Childminder agencies are also being introduced to boost the number of people joining the profession - giving parents more choice and flexibility to meet their childcare needs.
Education and Childcare Minister Elizabeth Truss said:
I want parents to have better access to affordable, high-quality childcare. Freezing fees and reducing the bureaucracy will encourage new childminders to enter this vital profession.

We know that good early education gives children the best possible start in life. Childminders are an important part of this and offer huge flexibility for parents - we want to see their numbers increase.
A recent report found that after 12 years of consistently rising prices, costs in England have fallen for the first time - putting more money in the pockets of parents.
Figures also show that more families are using nannies and nanny shares - indicating parents' need for home-based flexible care.
Alongside the fees freeze, a consultation has today been published to look at the technical details of how childminder agencies will operate from September 2014.
The consultation will look at:
the annual fee agencies will pay in line with that of nurseries at £220
the number of hours of professional development offered to childminders
the number of quality assurance visits provided by the agency
the number of hours of direct support from agencies to childminders
the role of local authorities, particularly the power they have to intervene in local markets and their role in delivery
Bolton headteacher and childcare provider Jack Hatch, who plans to open a childminder agency and has been involved in a trial said:
This will benefit children and parents so much. Parents can have a relationship with the agency and have a point of contact beyond the childminder. They have support if for any reason the childminder isn't available. Children can gain so much more from the exciting experiences and opportunities they get from their individual childminder having more professional development and support.

As an agency we are involved in the pilot inspections by Ofsted and this is proving so helpful in checking our documentation and procedures and giving us the security to know we are on the correct path.
Professor Kathy Sylva from Oxford University said:
There is an exciting opportunity for childminder agencies to work more closely to their mutual benefit with teaching schools or primary schools with foundation stage provision: parents would then have access to a blend of centre-based and home-based care, which might benefit parents and children alike.
The Children and Families Act introduced the powers to create childminder agencies and the consultation builds on this to create a service that is functional and flexible for all.
The government has also taken further action to reduce the burden on childminders by removing the requirement for separate registration if a childminder is providing food - this will now be done automatically when they are registered with Ofsted.
In September good and outstanding childminders were enabled to offer the free 15 hours of childcare for 3- and 4-year-olds.
The government has also announced further help for working families, including the new Tax-Free Childcare scheme. As part of the long-term economic plan, tax-free childcare will enable more parents to go out to work, if they want to, to provide greater security for their families.
Background
The registration and annual fee for early years childminders on the 'Early years register' has been £35 since September 2010. The registration and annual fee for later years childminders on the 'General childcare register' has been £103 since September 2008. In cases, where a childminder is on both registers the lower fee applies.
Becoming part of a childminder agency is optional.
DfE enquiries
Central newsdesk 020 7783 8300
General enquiries 0370 000 2288
Published 28 March 2014