Press release
'Books give you wings to fly' at the Queen's Birthday Party
British Embassy celebrates Queen's Birthday Party with 'wings to fly', highlighting the UK's contribution to the education sector in Lebanon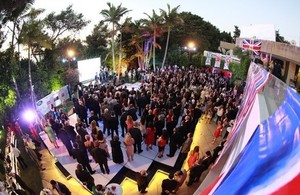 In celebration of Her Majesty the Queen's Birthday, the British Embassy Beirut held a reception at the Ambassador's residence, attended by Minister Michel Pharaon representing Prime Minister Salam, MP Yassine Jaber representing Speaker of Parliament Nabih Berri, Brig.-Gen. Maroun Hitti representing Lebanese Army Commander Gen. Jean Kahwaji and Guest of Honour Minister Elias Bou Saab. Also present were current and former MPs, Ministers, Ambassadors, business pioneers, representatives of the British community in Lebanon, civil society, educational experts , media personalities and others.
Lebanese superstar Ragheb Alameh and renowned singer Nancy Ajram, UN Goodwill Ambassadors active in the field of education performed the Lebanese and British national anthems.
Addressing his guests, British Ambassador Tom Fletcher thanked the sponsors, NGO partners and guests who supported this year's 'Education' theme. He condemned the terrorist attack in Raouche reiterating the need to stand by Lebanon at a time when efforts continue to intimidate and divide:
'Great Britain believes in Great Lebanon. But judge us on our actions not our words. Her Majesty the Queen shares a philosophy of resilience with Lebanon: when it is tough, 'Keep Calm and Carry On'. When you have come through this toughest of times, battling the odds, I hope that you too will say that Britain was on your side.'
This year's theme 'UK: Lebanon's partner for Education' reflects what the UK is doing through the work of the Embassy, DFID and British Council in support of Lebanon's educational sector and continued commitment to its stability. Over 700 guests saw students and teachers from the British Council recreate a classroom inside the ambassador's residence. Songs, dances and flash mobs were performed by children and youth from the Father Robert's Institute, International Borj School and St. Anthony's College-Hammana. As in previous years, leftover food from the event including flower arrangements made from sustainable fruits and vegetables will go to those who need them most through the Lebanese Food Bank.
For more photos from the Queen's Birthday Party celebration in Beirut, visit: www.flickr.com/ukinlebanon Follow us on Twitter @UKinLebanon and @hmatomfletcher Follow us on Instagram: UKinLebanon Follow us on Facebook: UK in Lebanon Visit our website: www.gov.uk/government/world/lebanon
Notes to editors
• The UK provided £3.4 million to enable the Lebanese government to purchase 307,000 textbook packs.
• UK humanitarian support for Lebanon is currently £139 million.
• The UK remains the second largest bilateral donor to helping Lebanon and host communities cope with the Syrian refugee crisis.
• UK will continue to provide relief services (in response to Syrian humanitarian crisis) to host communities and invest in long term development programmes benefiting them.
Published 26 June 2014