News story
Bomb attack in Mohmand Agency, Pakistan
Foreign Office minister Alistair Burt 'deeply shocked', and pays tribute to 'resilience' of people of Pakistan.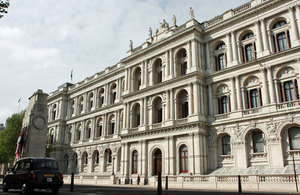 Speaking about the bomb attack in Mohmand Agency on 9 July, Foreign Office Minister Alistair Burt said:
"I am deeply shocked to hear about the fatal bomb attack in Mohmand Agency which has claimed the lives of many people. I send my deepest sympathies to the friends and family of those who have lost their lives or been injured.
"Britain once again pays tribute to the resilience shown by the people of Pakistan. Today's attack once again demonstrates the terrible impact of violent extremism. We will be a firm friend to Pakistan as it works towards a safer and more prosperous future for all its citizens."
Published 9 July 2010