Bob Neill visits Weymouth and Portland as Olympic flame visits Dorset
Fire and Olympic Legacy Minister Bob Neill, was in Weymouth and Portland on 12 July to meet local partners and community leaders to thank them…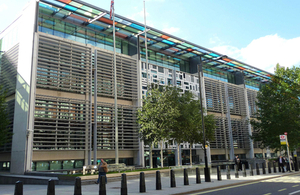 Fire and Olympic Legacy Minister Bob Neill, was in Weymouth and Portland on 12 July to meet local partners and community leaders to thank them for all the valuable work they have been doing to support the Olympic and Paralympic Games.
Bob Neill and the Mayor of Chickerell watch the Torch Relay
During his visit he toured the athletes' village at the Olympic and Paralympic sailing venue which after the Games will made available to the public as affordable housing. He then went to visit the town of Chickerell to see the Olympic Flame as it entered the Weymouth and Portland area.
Bob Neill said:
Weymouth and Portland has worked incredibly hard to make sure that everyone who comes to the borough to experience the sailing events has a fantastic time and to ensure that they maximise the legacy opportunities created by the Games. It's great to see local authorities working so well together to support the Games.

Despite today's torrential rain, the enthusiasm about the arrival of the Olympic Flame has been unwavering and I am sure that this passion will continue right until the middle of September.
While in Weymouth Mr Neill also took the opportunity to visit Dorset Fire and Rescue service personnel at Weymouth Community Fire Station and thanked them for their work in helping local communities cope with immediate effects of the floods in the region.
He said:
I'd like to thank the Dorset Fire Service for their work during the recent floods which have hit Dorset severely in recent days. The professionalism and support of that the fire service in dealing with these incidents is of great comfort and reassurance to the public.
Images
Published 13 July 2012