Bob Neill set outs the future of local planning
Planning Minister Bob Neill has called on the planning profession to lead the revolution to put power back into the hands of local people.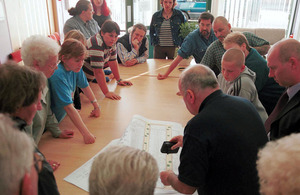 Speaking at the National Planning Forum, Mr Neill set out the government's vision for the future where councils and local people work together with developers and planners to deliver new building in their area.
Localism, localism, localism
The expert audience, which included council staff, planners, developers and charities, heard how the end of top-down regional targets by unaccountable quangos and bureaucrats would herald a new era in planning.
Planning Minister Bob Neill said:
We're abolishing this ridiculous system where Whitehall tells communities what they must build, and then dictates when and where they have to build it. Those who make planning decisions will no longer be able to avoid reporting back to those whose lives are directly affected by them.

Communities will be able to come together and take responsibility for solving their own local challenges in a way that make sense for them. And in return, they will be offered powerful incentives that ensure they see the benefits of the development they welcome.

But we can't return to localism simply by changing the rules. We need your help to make this work. Planning has its roots in a democratic system that engages local communities. You were there at the beginning, and you will be there again to give communities the real power and real influence they deserve.
A new way of working
Mr Neill explained how planning policy would be streamlined and simplified, to free up local authorities and communities to make their own decisions.
He also went on to set out the challenges ahead for planners, councillors and developers. In the future planners will not just be planning experts, but experts at working with communities, and translating their visions into action.
Local plans will be more transparent and spell put how they will benefit the community. Communities will help develop proposals for their neighbourhoods, rather than be consulted on 'options' that have already been prepared.
And local, long-term plans will become more important. If a new development is in the plan that is supported by local people, a proposal in line with that plan will be approved unless there are significant reasons against it.
Published 24 June 2010