Bob Neill raises a glass to the Great British pub on a visit to Kent
Community Pubs Minister Bob Neill emphasises the important role of the Great British pub in the economic and social vibrancy of communities.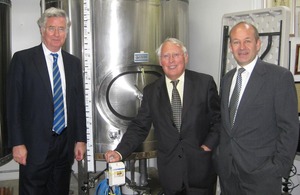 The minister was speaking while on a visit to the locally owned and run Westerham Brewery and The Royal Oak pub in Crockham Hill, Kent.
He was joined on the visit by local MP Michael Fallon and they were given a tour of the brewery responsible for producing the local ale. The brewery itself was refurbished from an old disused dairy building in a joint venture with a local farmer and is now a thriving local business with ownership of 2 local pubs.
The minister then called in at the village local, the Royal Oak, and met with Fiona the tenant who reiterated the role the pub has in bringing people together and cultivating community spirit.
Bob Neill said:
"Pubs are so much more than a place to grab a pint and a packet of crisps. Their contribution to local life as community hubs is not only social but extends to their valuable contribution to our national and local economies.
"We are committed to supporting the continued role of pubs at the heart of communities and want to see them thrive and prosper at a time when the economy is in recovery. That's why we are reviewing restrictive red tape, helping firms with business rates and handing power to communities to step in and take over and preserve their local."
Hubs of community life
The government is committed to seeing the continued role of the local pub as hubs of community life:
through the Community Right to Buy, the department is giving residents the power to save struggling local pubs by taking them over rather than seeing them empty and derelict
the department has announced a review of restrictive covenants, a clause that can be used in the sale of a building that restricts the use by new owners; reviewing the clause will give communities greater opportunity to use the new 'Community Right to Buy' power
the government has introduced a more generous small business rate relief scheme, to help half a million small firms; for 2 years from October 2010, small firms will receive 100% rate relief (ie pay no business rates at all) on properties up to £6,000 Rateable Value, and a tapered rate relief from £6,000 to £12,000; an estimated 330,000 no small firms will pay no rates at all
the government is also giving local councils new powers via the Localism Bill to introduce local business rate discounts, for example, to support local shops, community pubs, or important local facilities
Published 21 June 2011