Bob Neill confirms new jobs, homes and a new town centre
Thousands of new jobs and new homes are expected to accompany a new £600 million town centre for Canning Town in the Thames Gateway.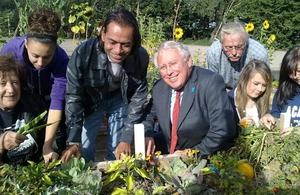 Bob Neill's first visit to the Thames Gateway as a minister coincided with the announcement that Morrisons would be the new retail partner for the £600 million scheme, which is expected to create 3,500 jobs and 10,000 new homes.
The minister praised the innovative use of public land ahead of building work. Local people are being given the chance to use and enjoy interim community allotments on what would have been a vacant site until development starts.
At DP World, the new port and logistics park at London Gateway in South Essex, Mr Neill helped name the new Stanford Wharf Nature Reserve. The wildlife habitat is 30 times the size of Trafalgar Square and already home to over 200,000 animals relocated as part of the construction process.
The minister also helped capture several slow worms at the construction site for the new port before travelling to the RSPB's West Canvey Marsh to release the reptiles safely back into the wild.
Bob Neill said:
"I am extremely pleased to be in the Thames Gateway for the first time as a minister and to see for myself the scope and the scale of its transformation.
"It's taken a lot of hard work and co-operation to get here and the Thames Gateway is taking shape, changing the landscape in many ways. World class trading facilities, new jobs and training opportunities are being created side by side with wildlife habitats, valuable green spaces and homes for the local community.
"The government is committed to the Thames Gateway, and to helping its people have a say in its future by stepping back and giving decision making power back to councils and the Mayor of London. We will still be there when needed - but we're putting the Thames Gateway back into local hands."
More photographs of the visit are available from the DCLG Flickr channel.
Published 20 September 2010